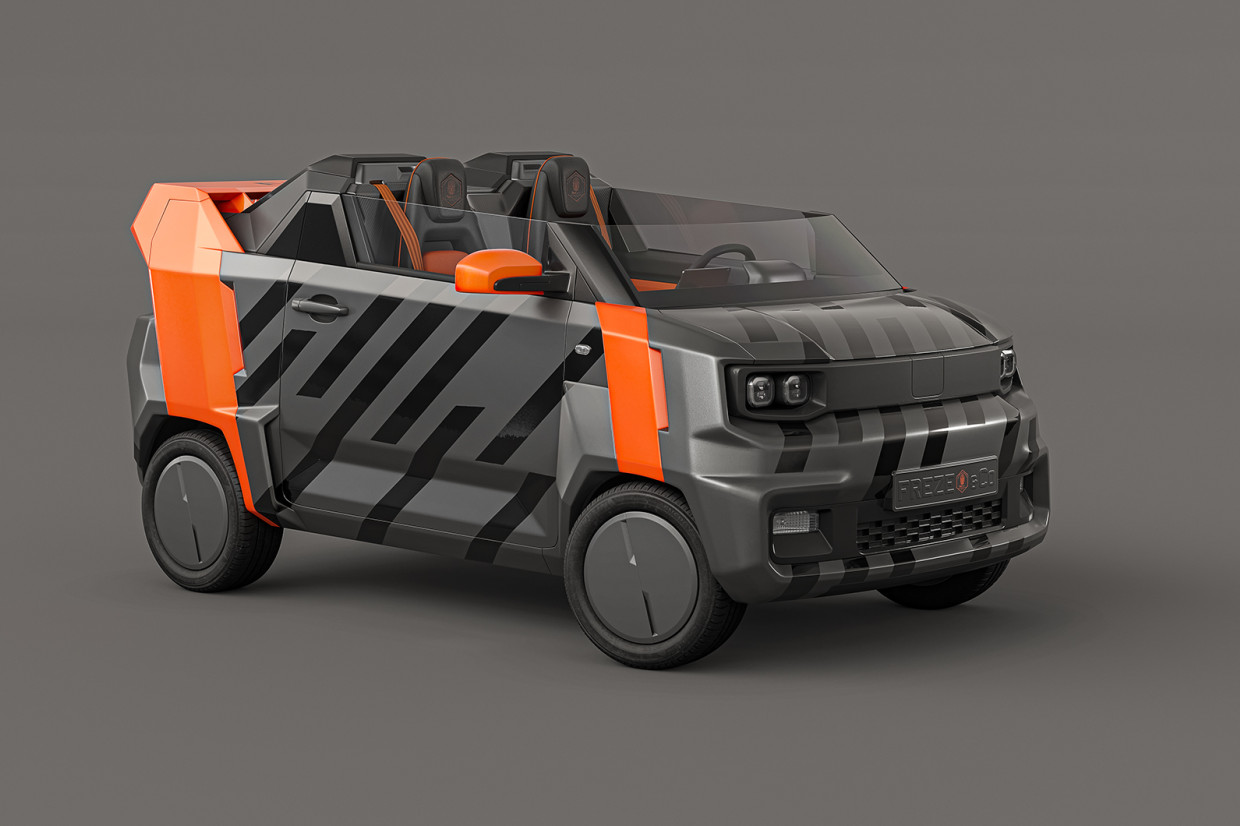 This is the new Freze Froggy EV Beachstar, a tiny electric convertible car that is somehow even more brilliantly bizarre than its oddball name and styling might suggest: it's made by a Latvian armoured vehicle specialist and based on a Chinese city car.
Yes, you read that right. The new machine is a soft-top version of the Freze Nikrob city car, which claims to be the cheapest electric car in the European Union with a base price of €9999 (£8460). Both are built by Dartz Motorz EV, which is based in Riga and specialises in producing luxury armoured vehicles.
The latest electric news in your inbox: subscribe to the Move Electric newsletter
The Freze Nikrob is essentially a rebadged and locally assembled version of the Wuling Hongguang Mini EV, a hugely popular Chinese city car produced by a joint venture between General Motors, SAIC and Wulang.
The new Freze Froggy EV Beachstar does away with the roof and the two rear seats from the Nikrob – because the firm says that "roadsters are not school buses" – and adds new, angular styling and a distinctive speedster-style rear deck.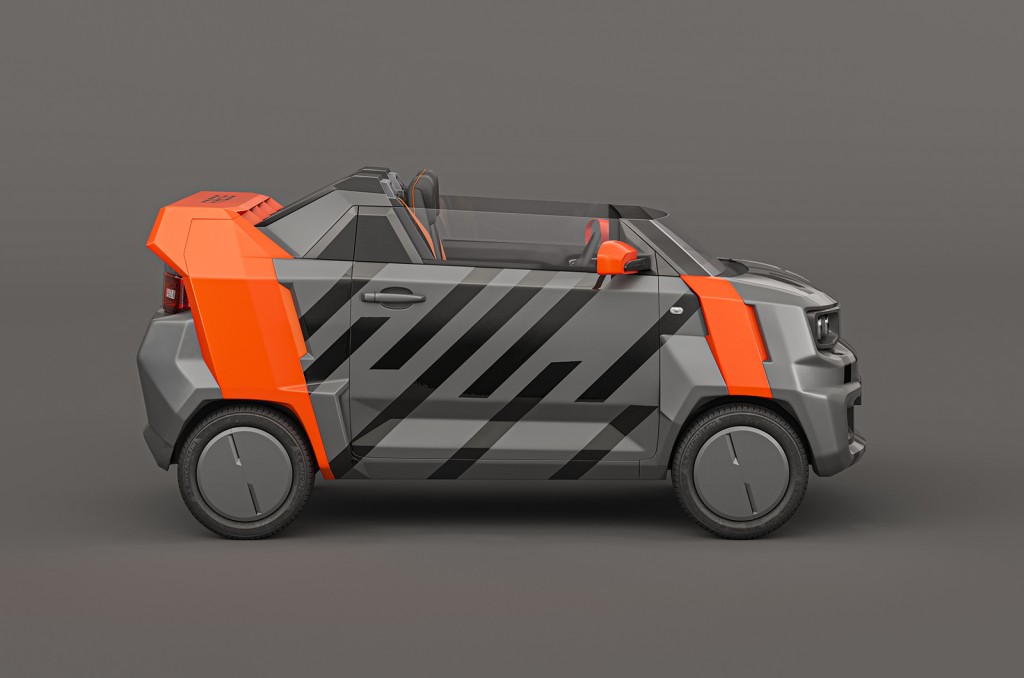 The styling of the car has been led by the Dartz Motorz design team headed by the firm's Designer in Chief – who, incidentally, it refers to as Dartz Vader. 
"It was challenging to convert a big lunchbox on wheels into an opulent roadster, and just cutting the roof was not enough," said the firm. It added that it wanted the convertible to be a "tycoon-style car", which would fit right in "among much more expensive cars, parked in Casino Square in Monaco."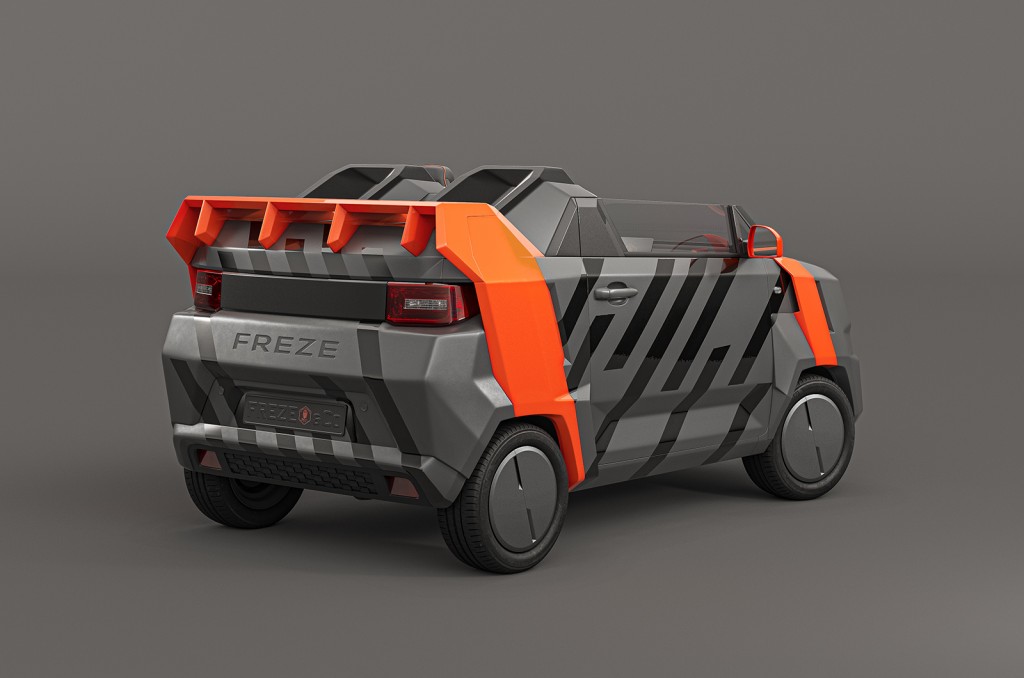 With the new machine effectively a rebooted version of the Wulung Hongguang Mini EV Cabrio, the Froggy will likely feature that machine's 20kW electric motor, which will enable a top speed of around 62mph. The Chinese cabriolet has a range of 105 miles, although that car retains four seats: the removal of the rear seats potentially means the Froggy could feature a bigger battery.
The firm says it is planning three versions – the Millennium, Millennium Adventure and Millennium Adventure Signature Edition – although it has not given details of them. But it did say that the top-spec special "will cost as much as an expensive roadster".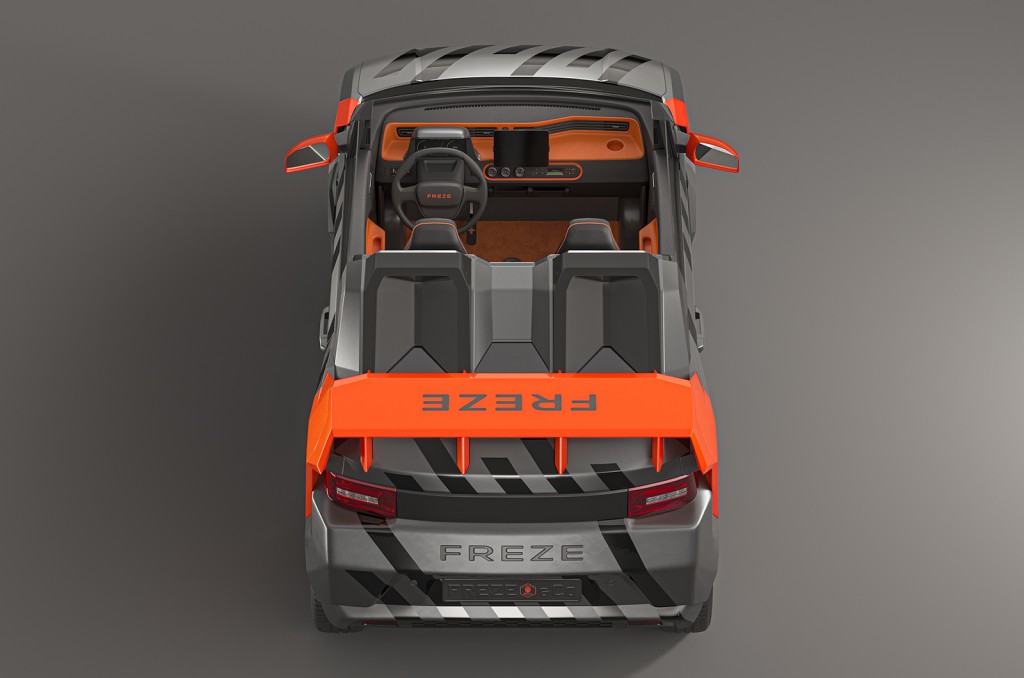 There is also a targa version planned, along with a Moke Electric and Meyers Manx 2.0 Electric-rivalling buggy version, which will be called the Freze Mojo EV.
Dartz revived the Freze name – which originates from a Russian company that made its first car in 1900 – for its EV efforts to differentiate them from the armoured cars it is best known for.
The Froggy name for the new convertible references one of Dartz's earliest vehicles: a heavily rebodied Volkswagen Beetle it produced in 1990 to showcase its coach building skills. The name came because the Dartz body apparently resembled a frog.
The original Froggy is also referenced by the green paint used for the new Freze Froggy EV Beachstar seen in one set of official images. The yellow is a reference to the Millennium Mercedes, a one-off machine that fused an SLK-Class body with the running gear from a G-Class that the firm built back in 1999.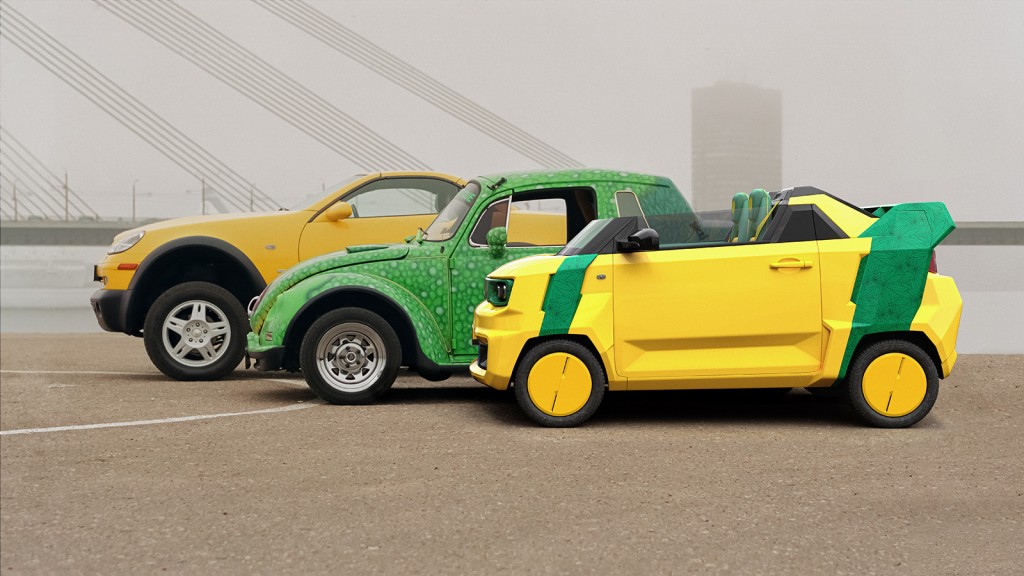 Dartz has yet to given any intention of the pricing of the new model, or if there is any intent to offer it in the UK – although it has confirmed that it is planning a right-hand drive version…
READ MORE
Subscribe to the Move Electric newsletter
e-CARS
UK charging networks: complete guide to every provider
New Cupra UrbanRebel is a bold EV supermini with 273-mile range
e-BIKES
10 fun things to try on an electric bike
Living with a Gocycle G4: how easy is it to adjust to?
e-MOTORBIKES
Seat Mó eScooter 125 UK review
How to do a CBT on an electric motorbike
Energica unveils new Experia electric tourer motorbike
e-SCOOTERS
Are e-scooters legal in the UK?
Private e-scooter rules 'cannot simply copy' rental regulations
Superpedestrian's European boss on why e-scooters are for everyone
e-WORLD
New Candela P-12 Shuttle to arrive as first electric 'flying' ferry
Pipistrel Velis Electro: meet the first certified electric plane