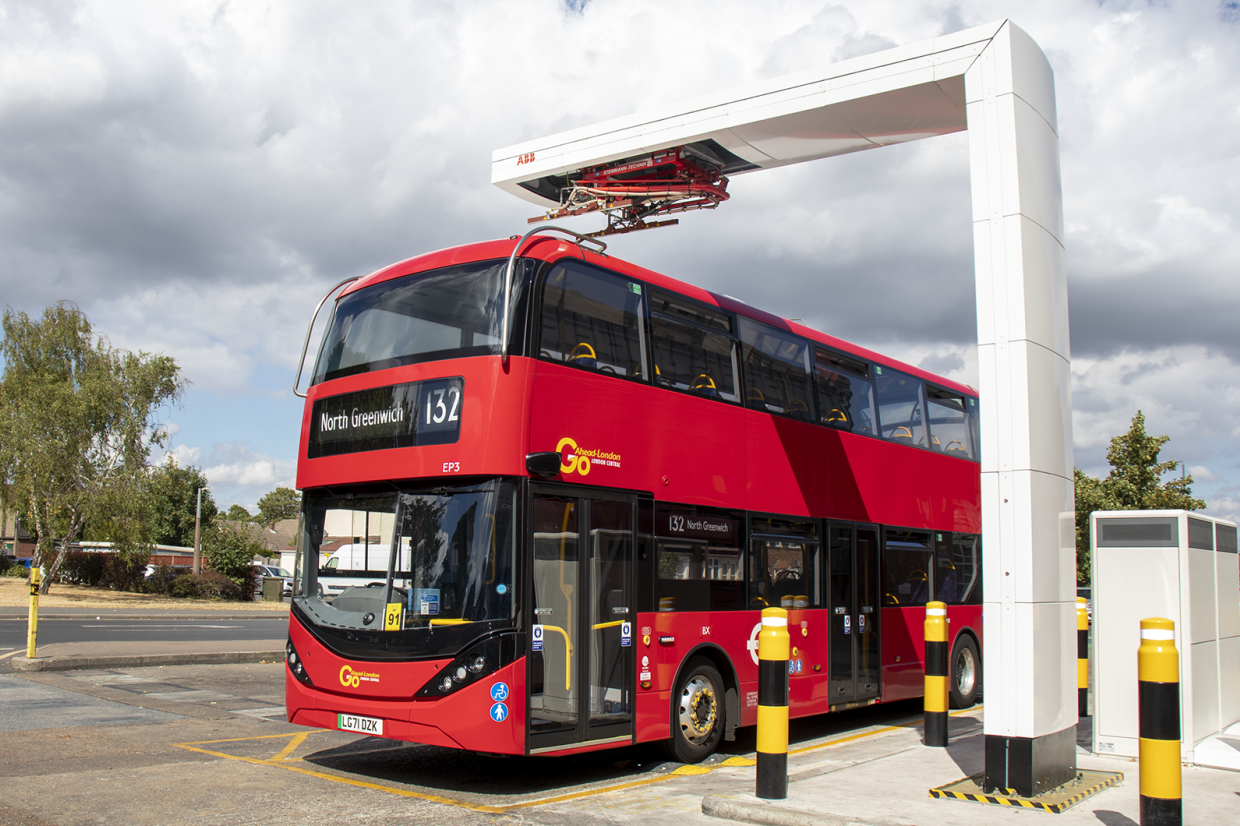 Transport for London has rolled out a new pantograph-based charging system for its electric buses, which will allow it to introduce the machines to travel further and on longer routes.
The new device has been fitted at the Bexleyheath bus garage, and will be uses for machines on London's route 18, which runs on a route of around 10 miles from North Greenwich bus station to Bexleyheath Shopping Centre. 
Get on board with the latest e-mobility news with the FREE Move Electric newsletter
The wireless charger uses a pantograph system, similar to the way many electric trains are powered. The charging pad hangs down from a tall column, which the bus then drives underneath. An arm-like structure then attaches to the roof of the bus to deliver a quick, high-power charge. Wireless RFID technology is used to deliver the charge.
Each charge takes less then 10 minutes, and is intended to 'top-up' the batteries of the bus multiple times each day, meaning each electric bus can keep running for longer. That means that fewer electric buses are required to provide a full service over a day. The buses are then conventionally charged overnight to fill the batteries.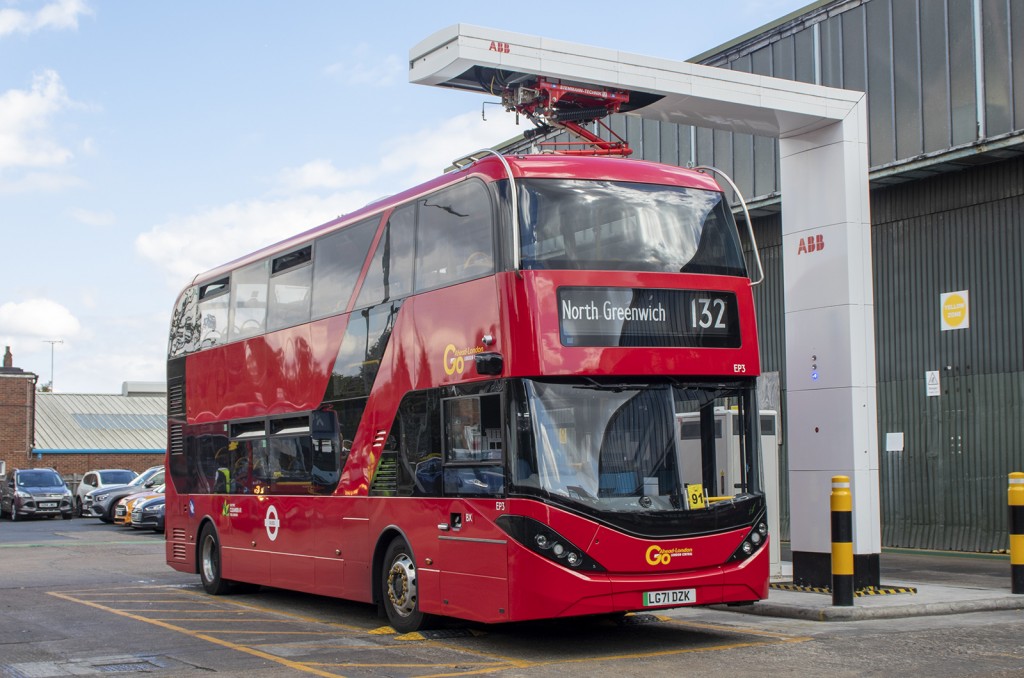 Route 132 is run by Go-Ahead London, and the charging system has been developed through a collaboration with a number of firms. EO Charging supplied the main charging infrastructure at the Bexleyheath bus garage, while ABB provided the pantographer charger. Meanwhile the BYD-Alexander Dennis Limited partnership has supplied 18 ADL Enviro400 EV double-decker buses for use on the route.
How Alexander Dennis is leading the UK's electric bus revolution
Offering 'opportunity charging' top-ups through a wireless system will allow bus operators to expand the distance and reach of electric buses on their network. There are already more than 850 zero-emission buses in London, which include 20 double-decker hydrogen buses being tested on routes 7 and 245, to establish the suitability of longer-range technology in urban areas.
Transport for London has already committed to expanding its use of pantograph charging next year, when it will install similar chargers at either end of the 15-mile route 358 that runs from Crystal Palace to Orpington. The distance of the route means that an electric bus charged up overnight couldn't last for an entire day – but they will be able to with top-ups from the two wireless chargers that EO Charging will install.
Notably, the 358 route will also get a bold new style of electric buses, with Turkish firm Irizar E-mobility supplying 20 ieTram machines (pictured below) that feature a more tram-like design along with new safety features. But don't fret: while they may not look like buses, TfL says they will still be painted red.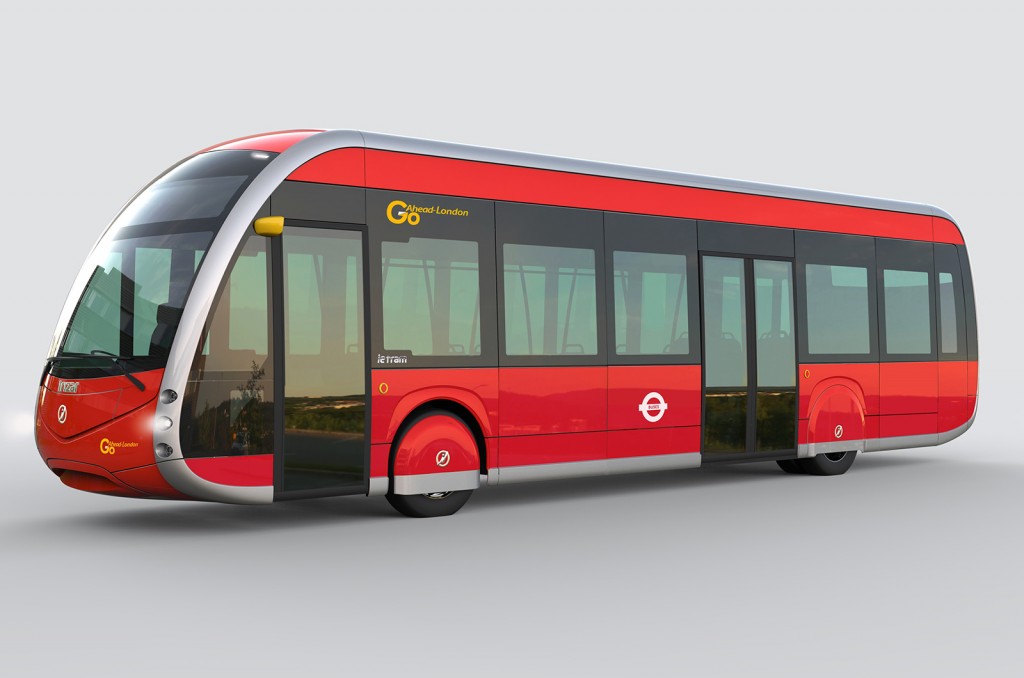 Louise Cheeseman, who is in charge of buses for TfL, said: "The threats of toxic air, climate change and congestion are becoming clearer every day, and it's vital that we find technical solutions that help us run clean, green services that get Londoners where they need to be. When buses can travel further each day, as they do with this exciting pantograph technology, we can deliver the same service that Londoners rely on without increasing the number of buses and invest in other routes."
TfL has committed to offering zero-emission bus fleet by 2034, but says that with additional funding it could bring that date forward to 2030. The body is aiming for a fleet of around 9000 zero-emission buses.
READ MORE
Subscribe to the Move Electric newsletter
e-CARS
Chinese car brand Nio to expand into UK by end of 2023
Driving a Citroën Ami around London: five things we learned 
New Polestar 3: 380kW performance EV aims to 'redefine' the electric SUV
e-BIKES
Seven essential accessories to improve your e-bike life
The Lake District village that's pioneering community e-bike schemes
e-MOTORBIKES
Honda to launch more than 10 electric motorbikes by 2030
New Zero DSR/X launched as electric adventure motorbike
Stilride: the brand reinventing electric motorbike production
e-SCOOTERS
8Tev B12 Roam e-scooter review
Pure Electric launches two new machines that 'reinvent' the e-scooter
Rise in e-scooter accidents prompts call for 'urgent' government action
e-WORLD
Artemis electric ferry revealed for Bangor to Belfast service
New Mobilize Solo Concept is a safety-conscious e-scooter rival
Volta Zero: the electric truck tearing up the rule book for the electric age