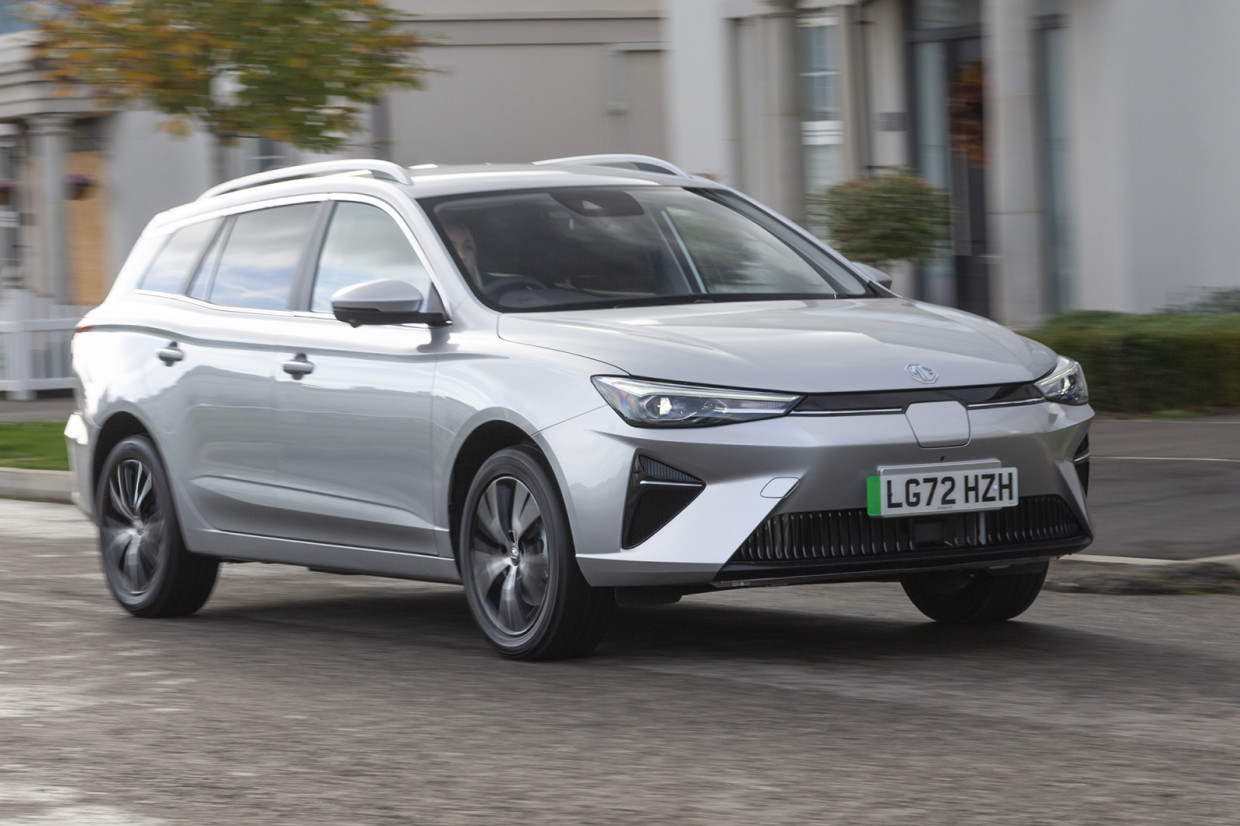 Sell it to me in a sentence…
MG's simple but successful budget-friendly electric estate has been given a surprisingly significant update.
You see quite a few MG 5 EVs around these days…
You certainly do. MG might not grab the attention of Tesla or Polestar, but the MG 5 was quietly one of the best-selling EVs in the UK last year. You'll find MG 5 owners who rave about its capacity, efficiency, reliability and low cost. And if you've spent any time in the vicinity of Heathrow airport, for example, you've likely noticed that the MG 5 is fast rivalling the likes of the Toyota Prius as the weapon of choice for private hire drivers on the airport run.
The success of the first-gen MG 5 EV is down to a simple, time-honoured formula: what it lacks in flash it makes up for by offering excellent value for money and plenty of space. It didn't have much in the way of frills, but it had everything you really needed. Think of it as the Premier Inn of electric cars.
But MG's ambitions are expanding as fast as its market share in the UK (which is really quite quickly, if you've been paying attention). Owned by Chinese giant SAIC, the brand is transitioning to a full electric line-up, with a bold product expansion of models built on a dedicated electric platform.
The first of those cars was the excellent MG 4 hatch that arrived last year, which was genuinely better than some of its key class rivals in many areas despite a price that significantly undercut them. You can kind of see a formula MG is following here, right?
To be clear, the updated MG 5 EV isn't as advanced or radical as its smaller sibling. But it has received a pretty major styling and tech overhaul to bring it fully up to date.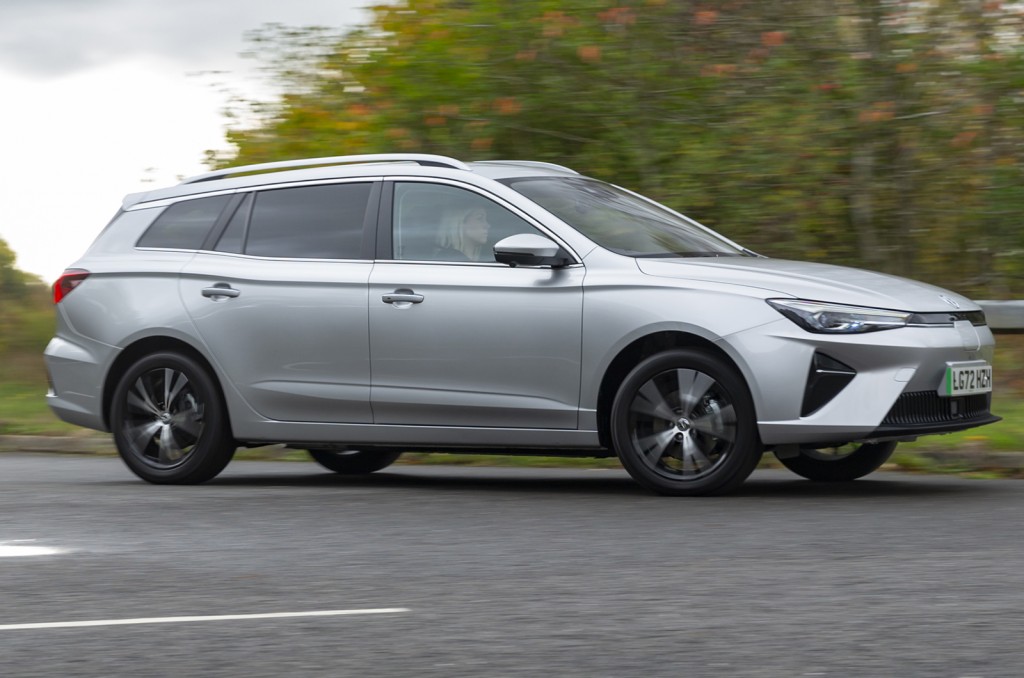 What do I need to know about the updates then?
Styling-wise, the new MG 5 has been reworked at the front and back, including a new-look front end that feels like the missing link between the first-gen MG 5 and the MG 4. While the first version seemed intended to look like the most generic family estate possible, this new model has added a dash of attitude and ambition. 
There are also reworked LED lights as standard at front and rear. As before, two trim levels will be offered: SE and Trophy. The entry-level SE version sits on 16in alloy wheels, while the Trophy version we tested has 17in wheels and also features rear privacy glass.
The interior has also been reworked fairly extensively. The 10.25in infotainment touchscreen has upgraded software, while there's a 7in digital driver display. The car can now connect with MG's iSmart app to offer a range of connected features. Elsewhere, there's a six-speaker 3D stereo system and a nifty rotary gear selector.
As standard, the MG 5 EV features the MG Pilot driver assistance systems, which includes active emergency braking, adaptive cruise control, intelligent speed limit assist and auto-dipping high beam lights. Trophy models also feature a 360-degree parking camera, heated front seats, automatic air conditioning and electric door mirrors.
Oh, and Trophy-spec cars feature 'leather-style' upholstery, while SE models feature fabric seats.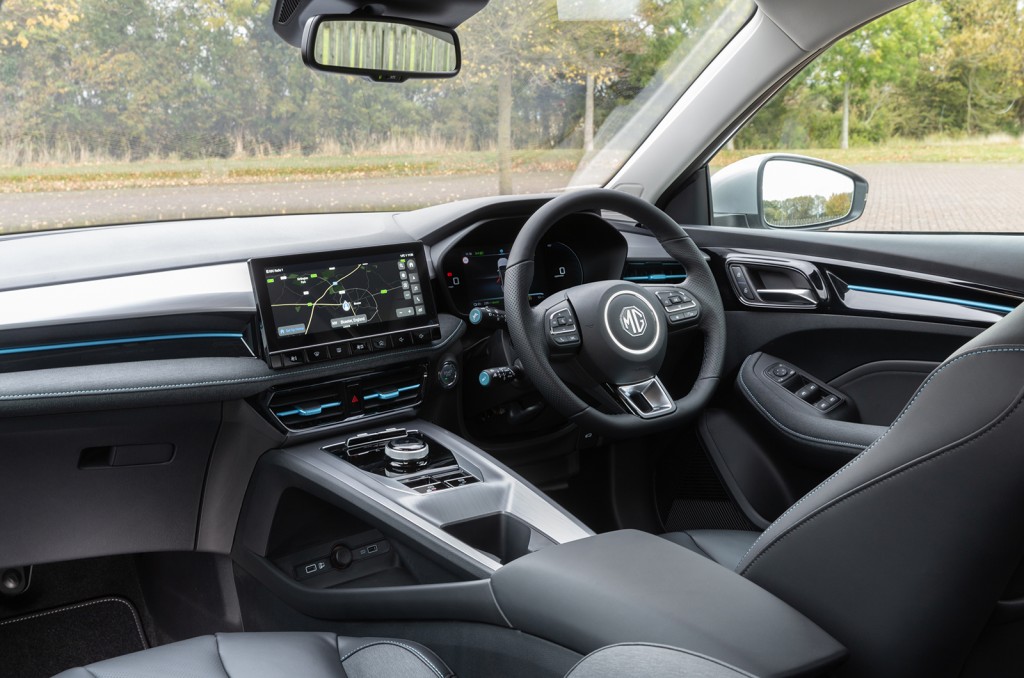 What about the powertrain and battery?
That hasn't changed much from the first-gen MG 5, but given the success of the model you wouldn't necessarily expect the firm to fix what clearly isn't broken. So all versions sold in the UK will feature the Long Range 61kWh (57.4kWh usable) battery. That gives an official range of 250 miles for the SE version, and 235 miles for the Trophy spec (largely on account of its larger wheels and extra bits of kit).
Both models use the same 115kW electric motor that offers 206lb ft of torque, a 0-62mph time of 7.7secs and a top speed of 115mph. 
The battery can be fast-charged at speeds of up to 87kW, allowing for a 10-80 per cent charge in 35 minutes. 
There is one new party piece for this update: the MG 5 now offers vehicle-to-load technology, which means you can use the car's battery to power pretty much any electrical device. Fancy air frying some chips in a remote car park? Well here's your chance. Please note: other, far more useful purposes for vehicle-to-load technology are available.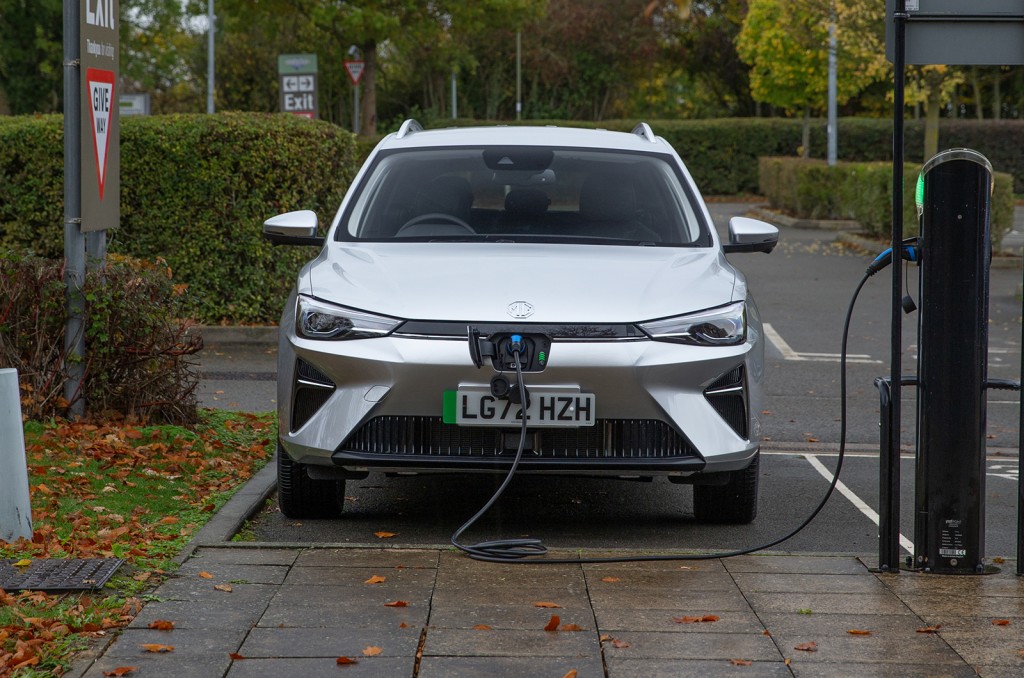 What's the MG 5 like to drive?
In terms of driving, the MG 5 EV is… fine. It's fine. Really, that's the best way to describe it. This is not a car designed or engineered for excitement, and it's not a machine that feels like its at the cutting-edge of electric technology. Equally, you'll find nothing really to complain about here. It's fine.
It essentially feels like an electric version of a reasonably decent but unspectacular family saloon or estate car. The steering is direct and benign, with a light feel that makes it easy to zip around in, and the power delivery is smooth and predictable without offering much in the way of drama or frills. It's exactly what most people would want from this sort of car, whether you need to munch miles on the motorway or chauffeur the family to school.
There are three driving modes on offer (Eco, Normal and Sport), which as is often the case don't make that much difference to how the car performs, although careful use of Eco can help you achieve some pretty decent efficiency. We tested the MG 5 in some pretty cold winter weather, and we fell a little short of achieving 200 miles on a full charge.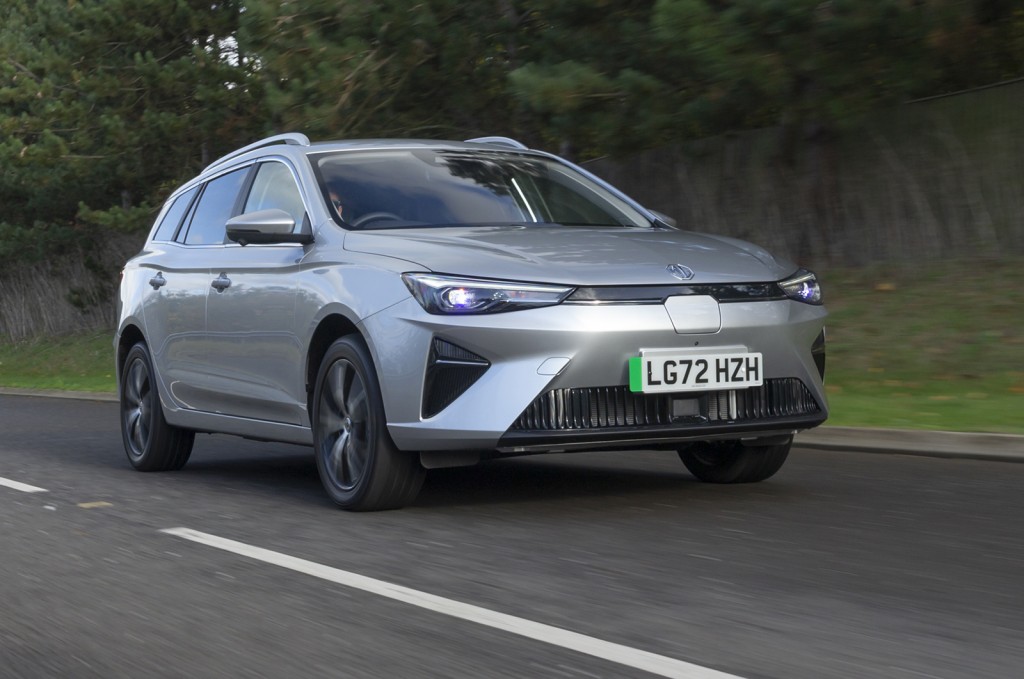 The interior feels much like the MG 5 drives: it's all fine. Our Trophy spec test model had a bit of sheen to it, but you wouldn't exactly call it posh or premium. But those leather-style seats were comfortable, and the switchgear all felt solid. We've yet to try an SE-spec model, but we suspect that we'd trade off that extra bit of interior trim for the extra range it offers.
The infotainment is decent to use, although it's not the shiniest or best you'll find in an EV. And we did have issues syncing Apple CarPlay from our iPhone: on occasions the system seemed to freeze from a bit with the screen then showing on a delay – a bit of a pain when you're navigating using Google Maps and you're a few hundred metres ahead of the display. That's not a problem we've had with the same phone in other cars, and was hopefully just an early glitch.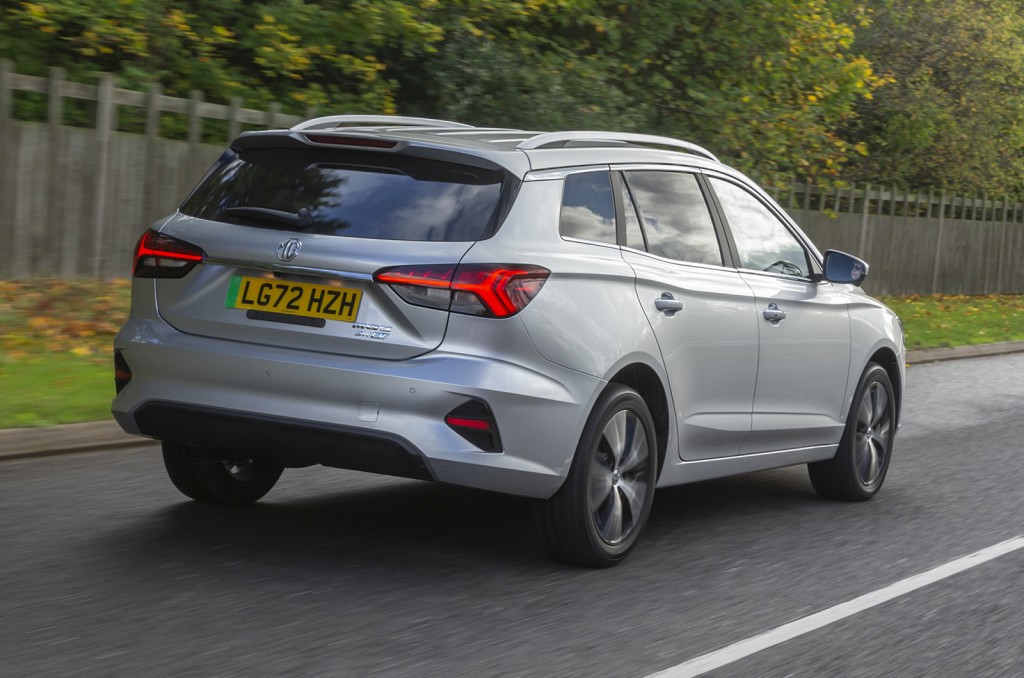 All in all then, the MG 5 EV is fine, and entirely respectable without being spectacular. What does impress is the space: there still aren't many electric estates on the market, and the MG 5 really scores on that count. The boot offers 479 litres of storage (slightly more than the previous generation), with the total capacity increasing to 1367 litres (oddly, slightly less than the previous generation) if you fold the rear seats down. It's a usable space too, with a dual-height boot floor.
Basically, it offers a lot of space for the money. Which means you're probably going to ask me how much it costs now…
If you insist. How much does the MG 5 EV cost?
MG has upgraded the estate, but it's kept to its ethos of competitive pricing. In entry-level SE form, the MG 5 EV costs £30,995, rising to £33,495 in Trophy spec. You get a seven year, 80,000-mile warranty too. Basically, for the same price as some electric hatchbacks you could own a full-on electric estate car. 
What rivals should I consider?
There aren't many electric estate cars about at the moment, so for now the MG 5 EV's real rivals come from family SUVs such as the Kia Niro EV and the Peugeot e-2008. They offer a bit of extra sheen, but forsake some of the practicality – although many car buyers will make that trade-off for that coveted high-riding SUV stance.
If you're looking for a comparatively affordable EV and you don't need the big boot space of the MG 5, you might want to think about it's smaller sibling, the MG 4. That machine is cheaper and still pretty spacious, while offering the benefit of a bespoke electric platform and newer tech.
And if you're really after an electric estate, you might want to ponder whether you hang on for a bit: the new Vauxhall Astra Electric and Peugeot e-308 are due to be revealed at some point this year, and both of those will be offered in estate form.
Verdict
The MG 5 EV is definitely the sort of electric car you buy with your head and not your heart. Its key selling points are affordability and practicality and all the sort of things you start to worry about once you've got a mortgage and kids and finally abandon your dream of owning a Lotus Evija.
But there's nothing really wrong with that: it turns out that your brain is in your head, and sometimes it's pretty smart. So when the MG 5 EV offers the sort of value-for-money that it does, it would be daft not to consider it.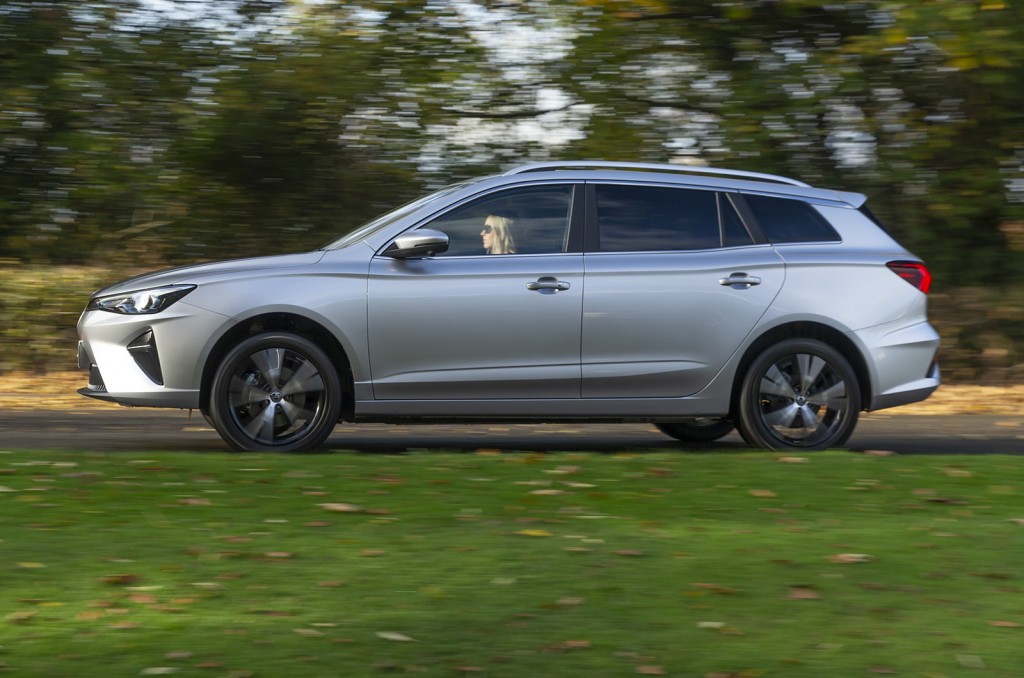 This updated version helps tip that balance a little further. It adds a bit of style and substance that helps compensate for some of the limitations that come with an EV at this price point. The MG 5 is not a game-changing reinvention of the EV. But if you're seeking out a strong combination of space and affordability in a solid all-round package, it's hard to argue against.
MG 5 EV Long Range specifications
Price from: £30,995
Motors: Electric permanent magnet synchronous
Gearbox: Automatic
Driven wheels: two
Maximum power: 115kW
Maximum speed: 115mph
0-62mph: from 7.7secs
Battery size: 61.1kWh
Electric range (official): 235-250 miles
CO2 emissions: 0g/km
Tyres from: 205/60 R 16
Kerb weight excluding driver: 1552-1560kg
Gross vehicle weight: 2028kg
Height: 1543mm
Length: 4600mm
Wheelbase: 2659mm
Width with mirrors folded: 1818mm
Maximum boot capacity: 479-1367 litres
READ MORE
Subscribe to the Move Electric newsletter
e-CARS
Ten electric cars we're excited for in 2023
Getting an EV sideways: how easy is it to drift a Kia EV6 GT?
Q&A: Jaguar Racing's Sam Bird and Mitch Evans on Formula E's new era
e-BIKES
Ten electric bikes we're excited for in 2023
Can you get fit using an electric bike?
e-MOTORBIKES
Ten electric motorbikes we're excited for in 2023
Super Soco TC Max electric motorbike review
Cake and Polestar team up for new special edition Makka e-motorbike
e-SCOOTERS
Planned laws to legalise private e-scooters face delay
Five key takeaways from the rental e-scooter trials report
Which train firms have banned e-scooters from their services?
e-WORLD
Move Electric's best features of 2022: lap records, tuk-tuks… and sausage rolls
Volvo Trucks keeps on electric trucking with three new models