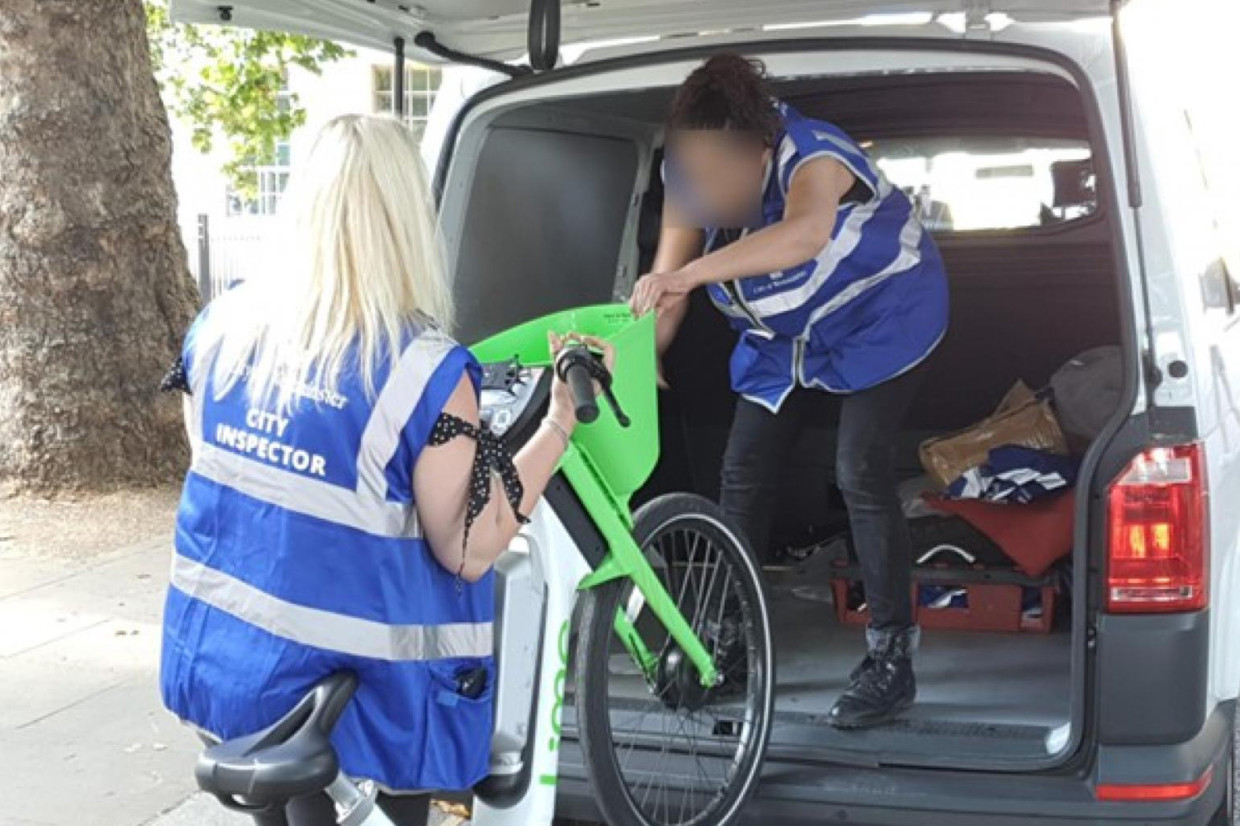 Westminster City Council says that it has begun to seize dockless rental e-bikes that are left blocking roads and pavements, due to concerns about safety for pedestrians.
The London borough says that the growing popularity of rental e-bikes means there has been a "spike in bikes being dumped across the city throughout the summer." It added that this created a "significant safety risk", highlighting the challenge they present for disabled and elderly pedestrians.
In response, shared transport charity Collaborative Mobility UK has called for further dialogue between the council and dockless e-bike operators, adding that operators are working to implement new parking solutions as quickly as possible.
Why Westminster Council is acting
Westminster currently is not official part of any rental e-bike rental schemes, although leading rental firms Dott, Human Forest, Lime and Tier all operate in nearby boroughs. Those firms use 'dockless' e-bikes that are operated via an app and can be parked anywhere. Several of those firms give parking guidance using the app, and can charge users extra for leaving bikes outside of the correct zones.
The council says that it has recently "attempted to engage" with the major dockless bike operators in London and is working to find a solution, but says it it acting after being "inundated with complaints about blocking access to pavements" and roads.
It has now instructed council offers to remove and seize any bikes which they determine are causing dangerous obstructions to pavements and roads. 
Councillor Paul Dimoldenberg, Westminster City Council's cabinet member in charge of city management and air quality, said: "Trying to walk down some of our streets has become like attempting an obstacle course and we are fed up finding these bikes dumped across the city.
"Anyone in town this summer will see these cycles abandoned. It's a nuisance and potentially dangerous, especially for those with disabilities.
"We've contacted the major dockless bike operators and made it clear that if they don't remove their bikes from the pavement the council will - and we'll charge them for doing so. Any money we raise will go towards improving cycling infrastructure on our streets."
How the mobility industry has responded
Alex Berwin, Tier's regional manager for Greater London, said: "Tier supports Westminster's ambition to boost cycling in the Borough by 2026, backed by a bold Climate Action Plan to improve air quality for residents. Shared micro-mobility offers an effective solution that would help achieve these aims.
"We will collaborate with Westminster to ensure they have access to our wide range of tools which ensure our vehicles are parked sensibly and local people can access sustainable transport." 
Hal Stevenson, Lime's senior public affairs manager for the UK, said: "Lime has never deployed e-bikes in Westminster, or displayed e-bike parking here. We are committed to working with WCC, other operators and wider stakeholders to resolve these issues, and will be putting forward a cross-operator package of measures aimed at more effectively managing e-bikes that have been left in the borough.
"Lime is proud to be working with London boroughs and transport partners to help create a more sustainable, accessible capital for everyone. If you ride Lime in London, please remember to park responsibly, and never leave a bike in a way that obstructs the pavement, or makes someone else's journey more difficult." 
Collaborative Mobility UK (CoMoUK) has called for more dialogue between the council and rental e-bike operators, adding that it believes that a combination of designated and carriage way e-bike parking that is funded by e-bike operators would address the issue.
The charity highlighted how e-bike operators work with other London boroughs to created dedicated parking bays for e-bikes, often replacing existing car parking spaces. The operators have funded such measures, which CoMoUK says can help to increase cycling uptake.
CoMoUk highlights data that shows rental e-bike schemes has reduced car usage for each rider by an estimated 3.7 miles per week – equating to around 1kg of CO2.
Antonia Roberts, the deputy chief executive of CoMoUK, said: "Westminster has some of the worst air quality in the entire country, and shared e-bikes are a vital part of the solution to delivering the council's Climate Action Plan.
"Bike share is a catalyst to re-engaging with cycling – supporting health and wellbeing, triggering sustainable travel behaviours, cutting car miles, and working alongside bike ownership.
"There is a firm willingness by operators to go to extra lengths to implement a scheme which works for all parties in Westminster, and they would welcome the opportunity to reach a solution with the council."
Westminster 'supportive' of cycling initiatives
Dimoldenberg insisted that the council was "supportive of cycling and the many benefits it brings, particularly when it comes to cleaning up air quality", highlighting initiatives such as the free bike training it offers.
He added: "We want to find a solution that works for everyone but, in the meantime, people living and visiting Westminster shouldn't have to put up with this every day."
Westminster Council is part of London's Santander Cycles rental bike zone, where bikes are rented from and returned to docked stations. The council is also part of London's rental e-scooter trials, but those machines can only be docked in set locations. 
READ MORE
Subscribe to the Move Electric newsletter
e-CARS
UK charging networks: complete guide to every provider
New Cupra UrbanRebel is a bold EV supermini with 273-mile range
e-BIKES
10 fun things to try on an electric bike
Living with a Gocycle G4: how easy is it to adjust to?
e-MOTORBIKES
Seat Mó eScooter 125 UK review
How to do a CBT on an electric motorbike
Energica unveils new Experia electric tourer motorbike
e-SCOOTERS
Are e-scooters legal in the UK?
Private e-scooter rules 'cannot simply copy' rental regulations
Superpedestrian's European boss on why e-scooters are for everyone
e-WORLD
New Candela P-12 Shuttle to arrive as first electric 'flying' ferry
Pipistrel Velis Electro: meet the first certified electric plane