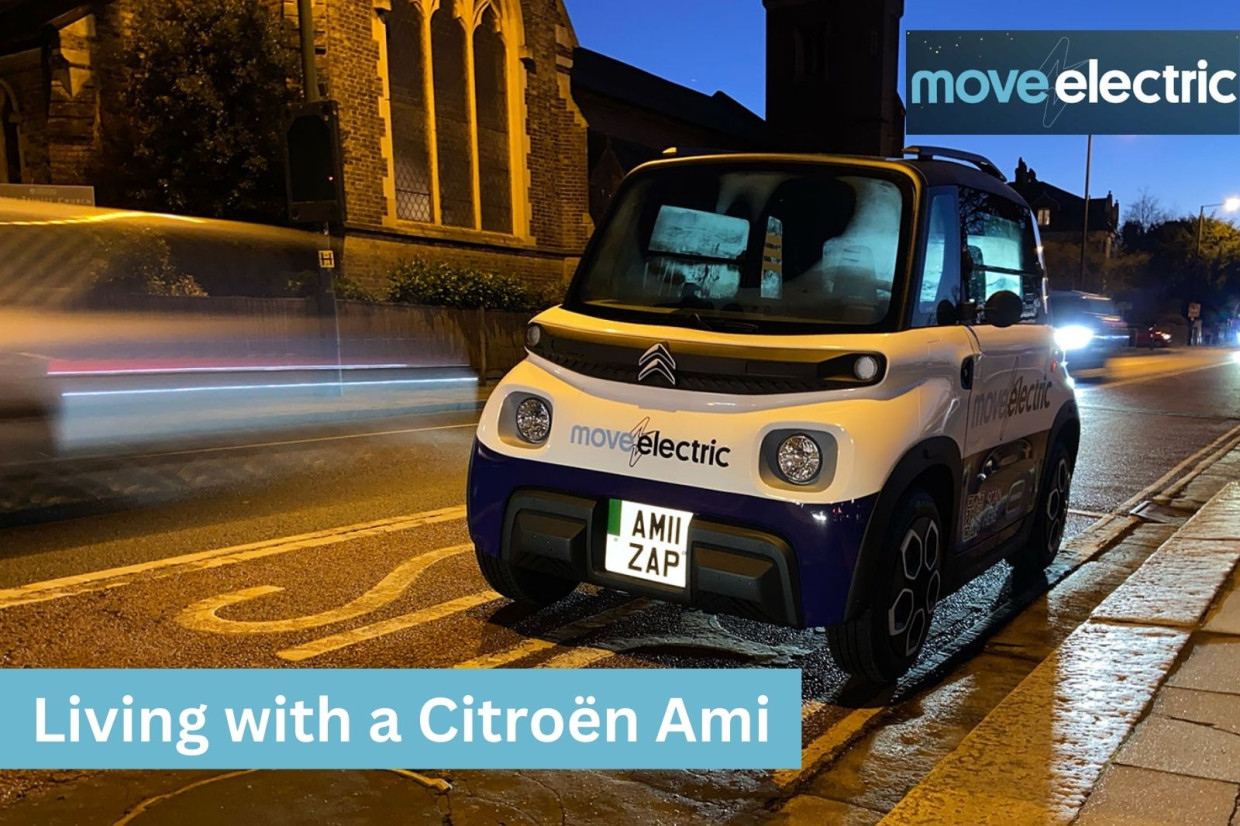 Here at Move Electric, we're quite partial to the Citroën Ami, because it offers an interesting and innovative solution for affordable electric transportation.
We're running our own #MEami – complete with full-on Move Electric livery – for the next few months to find out what it's really like to live with.
If you spot us when out and about (likely in south west London), give us a wave and feel free to take a photo. You can share them on social media, use the hashtag #MEami. 
Anything you really want to know about living with an Ami? Email james.attwood@haymarket.com and we'll put it to the test.
Report 3: driving the #MEAmi to the What Car? Awards
Choosing a vehicle to drive you to a swanky awards ceremony is pretty straightforward these days. Some prefer to make a statement by arriving in a long-wheelbase Range Rover; others may opt for a big Mercedes or BMW saloon. 
But when it came to choosing a vehicle to take us to this year's What Car? Awards, dubbed the 'Motoring Oscars', we came up with a brilliant climate-conscious alternative. Step forward the Move Electric Citroën Ami. 
We've been using our Ami for lots of journeys around west London, with our last report highlighting the benefits of using a quadricycle to get to and from Move Electric Towers. 
Our trip to the What Car? Awards, held at the The Grosvenor House Hotel, allowed us to test the Ami's commuting abilities further and see how it would perform on a longer journey into the centre of the capital. 
The night before the Awards we charged the Ami to 100% giving us a range of 46 miles; although when we turned the car on last Thursday evening it had dropped to 44 miles. 
It's worth noting that we set off to the Awards in freezing conditions, so the Ami's heater was required for much of the journey.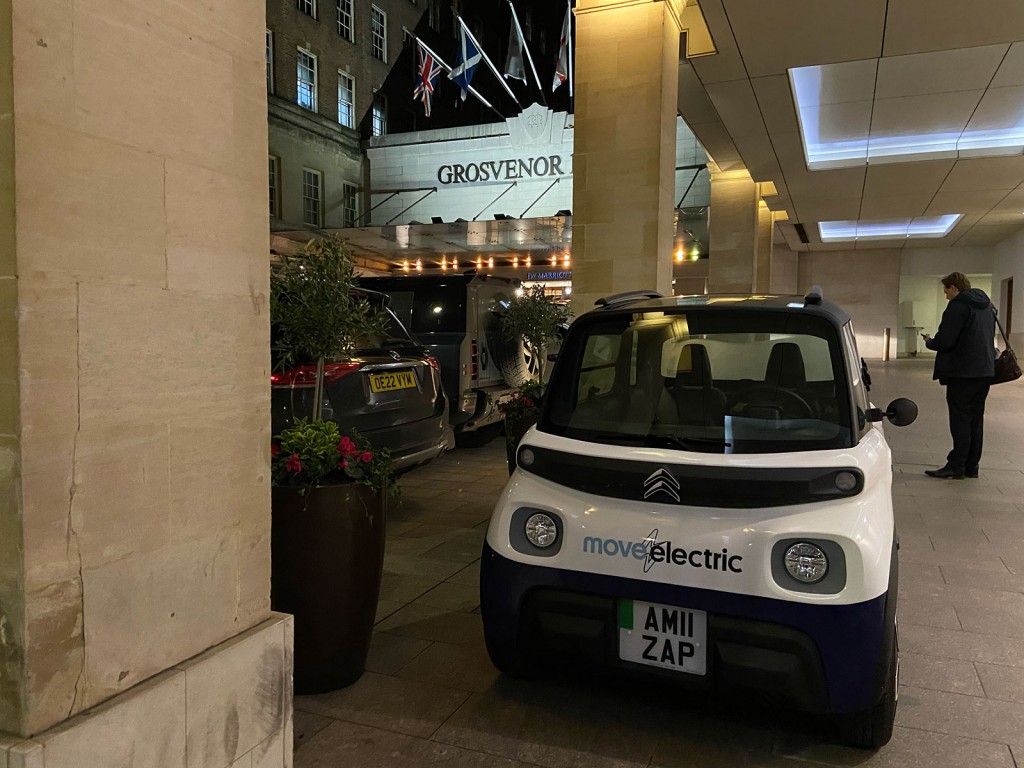 Overall the Ami handled the 11.7-mile trip well, despite the cold weather and heavy traffic. As we neared the venue, smartphone navigation app Waze found a faster route which took us around a residential area near Kensington Gardens and Hyde Park.
Here, the Ami was in its prime, with its lightweight accurate steering and short-wheelbase tailored to the narrow backstreets. And thanks to our rat-run through Shepherds Bush and Paddigton we clawed back some time, arriving at The Grosvenor on schedule. 
Our only real bugbear was the range: we started with 44 miles, but this had dropped to 24 miles when we parked outside the hotel. 
Naysayers will jump to criticise the Ami's efficiency, but it was around -1 degrees celsius when we arrived - that is far from suitable conditions for a quadricycle with a 5.5kWh battery. And it's worth mentioning that for 20-30 minutes we were sat in a traffic jam in Richmond with the heater on full blast, reducing the Ami's range at a faster rate. 
All in all, the Ami proved it can handle greater distances in cold weather, albeit with a significant impact on range. Would we travel to next year's awards in a Mercedes Maybach? Absolutely not.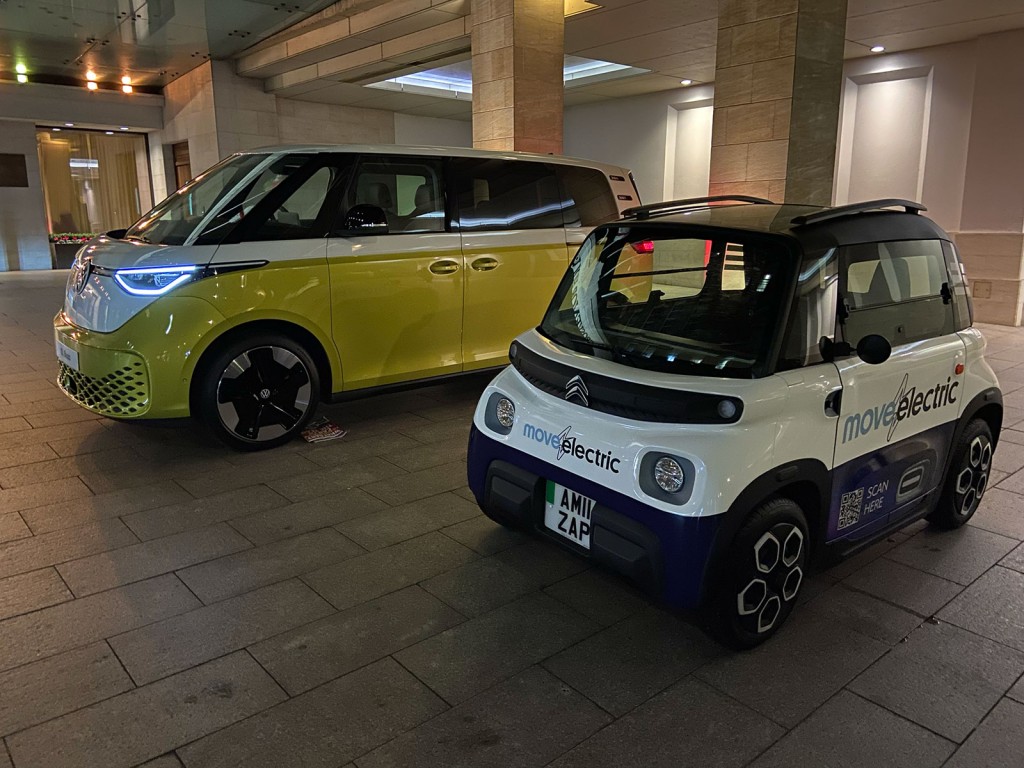 Report 2, January 2023: Commuting in an Ami
The #MEami arrived with us just before Christmas, and as with all good Christmas presents we've been trying to use it as much as possible. And horrible late December weather gave us the perfect excuse to put the Ami to the test for a spot of commuting to work.
More EV news than you can fit in an Ami: it's the Move Electric newsletter
It's a job the Ami is ideally suited for: it's about a six-mile drive from my house to Move Electric Towers, and usually takes around 20-30 minutes (because London traffic, sigh). As a bonus, we even have access to a dedicated office car park with some EV chargers.
While we have to share that car park with Autocar, What Car? And other colleagues at Haymarket, given the size of the Ami it's easy to find a corner to cram it into. In fact, we actually worked out it would fit through the door into our storage cupboard, although we need to check if the ramp will bear the weight before we try…
My commute is entirely within the London Borough of Richmond-upon-Thames, which has installed a blanket 20mph speed limit on most roads for safety reasons. And that mans the low 28mph top speed of the Ami absolutely isn't an issue. 
Move Electric's star e-vehicles of 2022: Citroën Ami
The small size of the car has its benefits, too. The main road between Kingston-upon-Thames and Richmond-upon-Thames threads between the River Thames and Richmond Park, with historic building tight on either side. That makes it incredibly tight for modern cars, and you often have to stop to allow a bus or lorry to squeeze past. But in the Ami it's far more relaxing, especially because the left-hand drive layout makes it easy to place the car on the far left-side of the road.
Now, the Ami is definitely not the last word of luxury to commute in. The motor does whine a bit, and the seats aren't that comfortable. And if you want a bit of heat in cold, wet weather the fan isn't all that effective and is annoyingly loud: it's a bit like the whirr a laptop computer makes when it's overheating. But not of those are insurmountable problems, because it's a relatively short journey. 
Besides, on a wet day sitting in an Ami will keep you drier and warmer than if you walk or take an e-bike, but without filling as much of a congested road as a great big SUV. And judging by the stares we've been getting, we've helped cheer up several people as we pass. 
An impromptu comparison came on a recent morning when for the bulk of my journey I found myself behind a Porsche Cayenne in a long, slow queue of traffic. Was the driver of that Cayenne more comfortable than me? Almost certainly. Was the driver of that Cayenne warmer than me? Probably. But did the driver of that Cayenne cover that part of their journey any quicker than me? Absolutely not. And did the driver of that Cayenne have more fun than me? I'd suggest not. 
Report 1, December 2022: we've got our own Ami!
The Citroën Ami has its limitations, but if you're looking for low-cost, four-wheeled electric mobility for short trips around town, you won't find much better. 
That's why we gave it five stars when we reviewed it, and named it the winner of the Innovation Award in the first Move Electric Awards earlier this year. We've also found out what the Ami is really like to drive around the UK's capital – and pitched it against other e-mobility options in our first E-Race across London.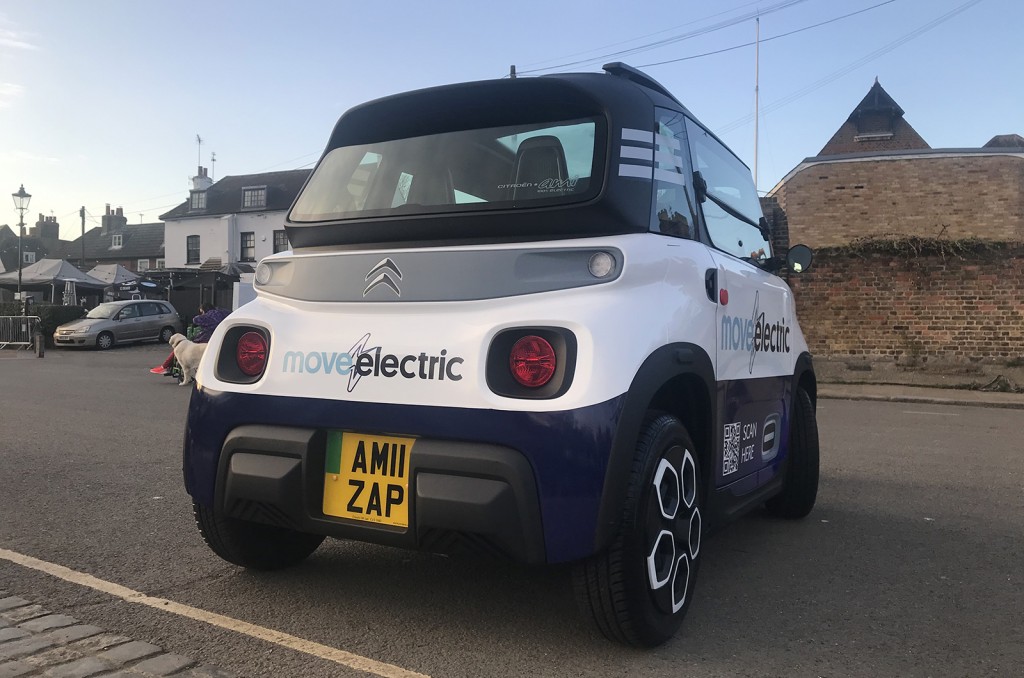 But there's still more to learn, so we've been asking Citroën for ages to loan us an Ami for an extended period. We want to find out what the quirky quadricycle is really like to live with. 
The latest electric vehicle news in your inbox: it's the free Move Electric newsletter
Well, Citroën went one better: they didn't just send us an Ami, they gift-wrapped it. And not in rubbish Christmas paper either, but in full-on Move Electric colours.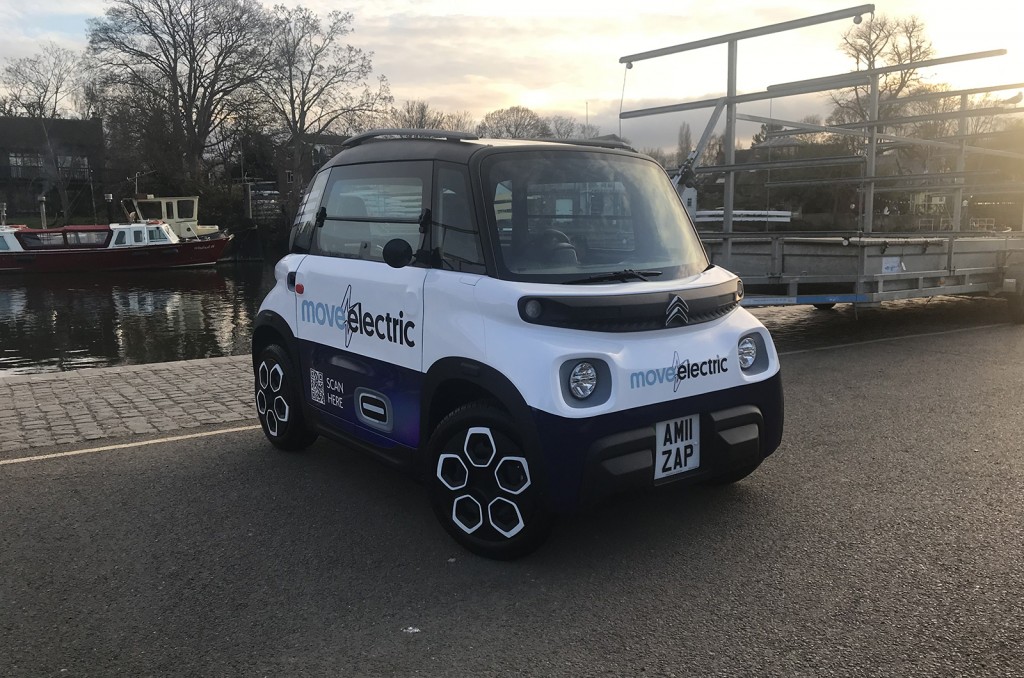 So we'll be out and about in the ME Ami for the next few months, trying to explore all of its depths and show off Move Electric a bit. We'll be honest, we'll mostly be around west London, thanks to that 28mph top speed and limited range. But if you see us out an about give us a wave.
READ MORE
Subscribe to the Move Electric newsletter
e-CARS
Chinese car brand Nio to expand into UK by end of 2023
Driving a Citroën Ami around London: five things we learned 
New Polestar 3: 380kW performance EV aims to 'redefine' the electric SUV
e-BIKES
Seven essential accessories to improve your e-bike life
The Lake District village that's pioneering community e-bike schemes
e-MOTORBIKES
Honda to launch more than 10 electric motorbikes by 2030
New Zero DSR/X launched as electric adventure motorbike
Stilride: the brand reinventing electric motorbike production
e-SCOOTERS
8Tev B12 Roam e-scooter review
Pure Electric launches two new machines that 'reinvent' the e-scooter
Rise in e-scooter accidents prompts call for 'urgent' government action
e-WORLD
Artemis electric ferry revealed for Bangor to Belfast service
New Mobilize Solo Concept is a safety-conscious e-scooter rival
Volta Zero: the electric truck tearing up the rule book for the electric age