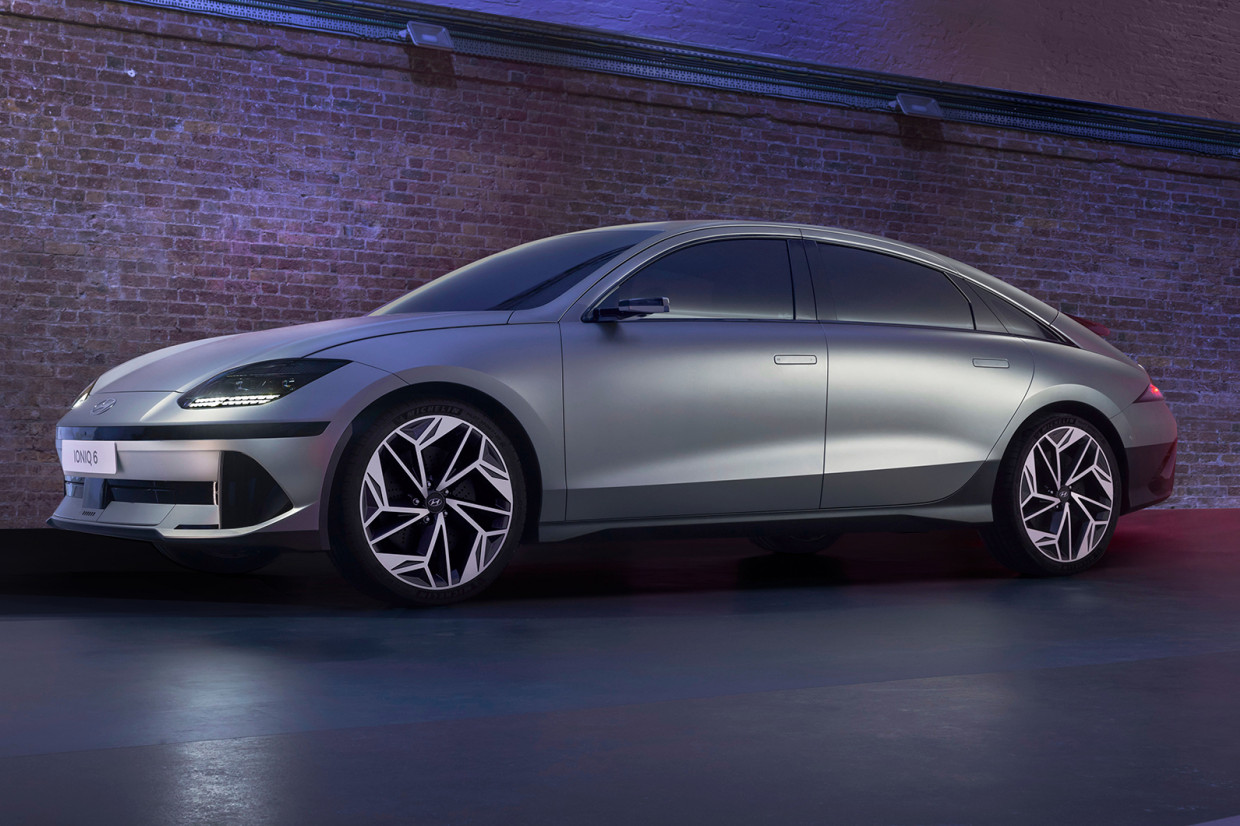 Hyundai has revealed further technical details abut the ultra-sleek and futuristic Ioniq 6 saloon – the second addition to its Ioniq family of bespoke EVs that will go into production later this year as a Tesla Model 3 rival. 
Given that the Hyundai Ioniq 5 was the winner of Move Electric's Best Electric Car Award for 2022, there's reason to be quite excited about the new machine – especially because Hyundai has now revealed it will offer an official range of 379 miles.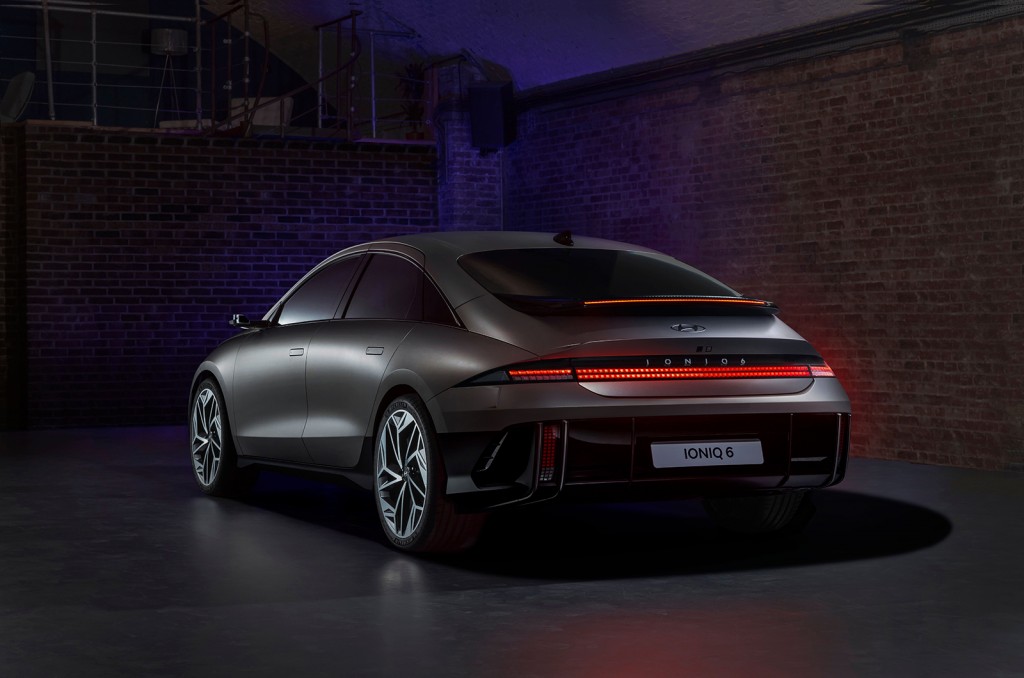 The Ioniq 6 was first seen in concept form back in 2020 as the sinister-looking Prophecy concept, and though that car's proportions have evolved for the production car (the battery pack has forced the roofline up by 200mm, for example), it's still one of the most radically designed models to wear the Hyundai badge. Well, maybe after the oh-so-1980s Ioniq 5…
 
It measures 4855mm long by 1880mm wide and 1495mm tall, and has a wheelbase of 2950mm, so it's a good match, size-wise, for the ever-popular Tesla Model 3 – but other natural rivals include the Polestar 2 and BMW i4.
As with the Ioniq 5, it rides on Hyundai's E-GMP skateboard architecture, also used for the impressive Kia EV6 and Genesis GV60. That means it will charge at speeds of up to 350kW – as fast as any EV currently on sale – and can be used itself as a power source for external appliances.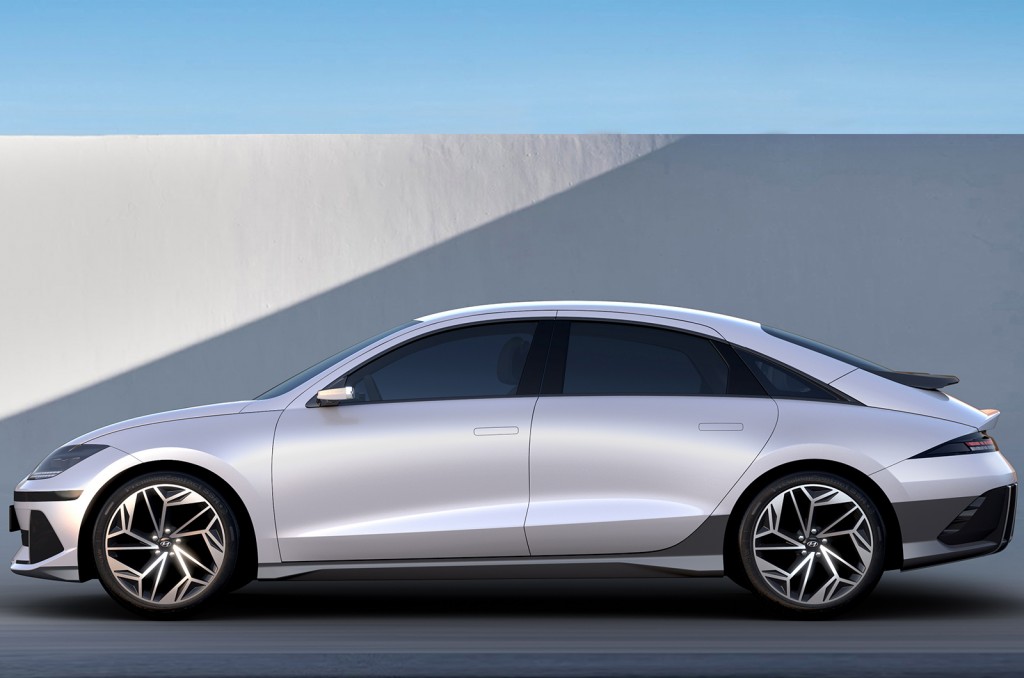 We expect a choice of batteries ranging from 58kWh to 77.4kWh in capacity, with the largest offering a substantial range of more than 379 miles, and the option of single-motor, rear-wheel-drive or twin-motor, four-wheel-drive powertrains.
The top-spec Ioniq 6 will use a pair of motors to offer all-wheel-drive with 239kW and  446lb ft of torque. That will enable a 0-62mph time of 5.1 seconds.
The slippery aerodynamic design of the machine also means it should be very efficient: Hyundai claims the entry-level version with 53kWh battery and single motor driving the rear wheels will, when running on 18in tyres, be able to achieve an efficiency of 4.44 miles per kWh.
Drivers can adjust the car's setting with an 'EV Performance Tune-up' system, which allows the driver to adjust the steering effort, motor power mode, accelerator sensitivity and driveline mode. 
There's also an e-ASD mode, which drivers can use to adjust the noise that is played into the cabin when the motor are used. Hyundai describes the noise as a "spaceship-like sound" designed to make EVs "more exciting and people-friendly". The machine will also offer a vehicle-to-load function. 
While unconfirmed, we expect that the Ioniq 6 will eventually gain a range-topping version under Hyundai's N performance badge, which will feature a 430kW powertrain and should give the Porsche Taycan a run for its money in a straight line.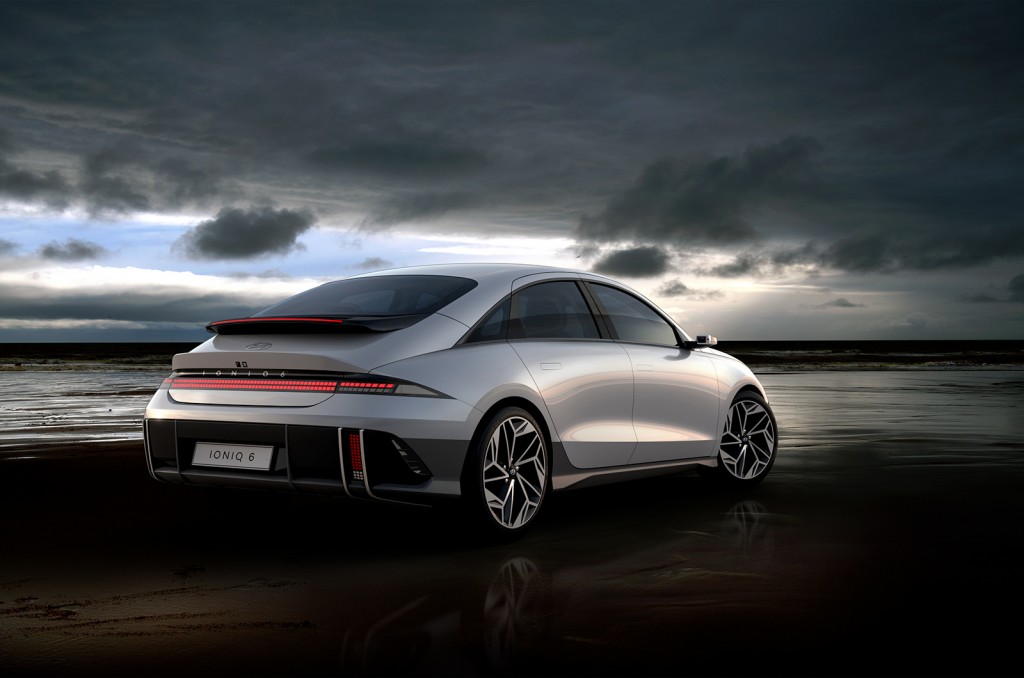 You will have noticed that the Ioniq 6 looks nothing like the angular Ioniq 5 crossover - and that's part of an effort from Hyundai's designers to not employ a 'Russian doll' approach to EV design.
The Ioniq 6 features a much more aero-led 'single-curve' silhouette which will help to boost efficiency; boasting a drag coefficient of just 0.21Cd - making this one of the most aerodynamically efficient production cars available and Hyundai says, a 'streamliner' rather than a conventional saloon. 
With a flat floor and an overt focus on ergonomics in the cabin, the Ioniq 6 can be used "almost like a third room" by owners, designer SangYup Lee told Move Electric.
He added: "The single curvature creates a very nice warm 'cocoon' atmosphere inside. Exterior design is the main factor in a customer's purchase decision, but for an EV the interior will be the distinguisher for the brand."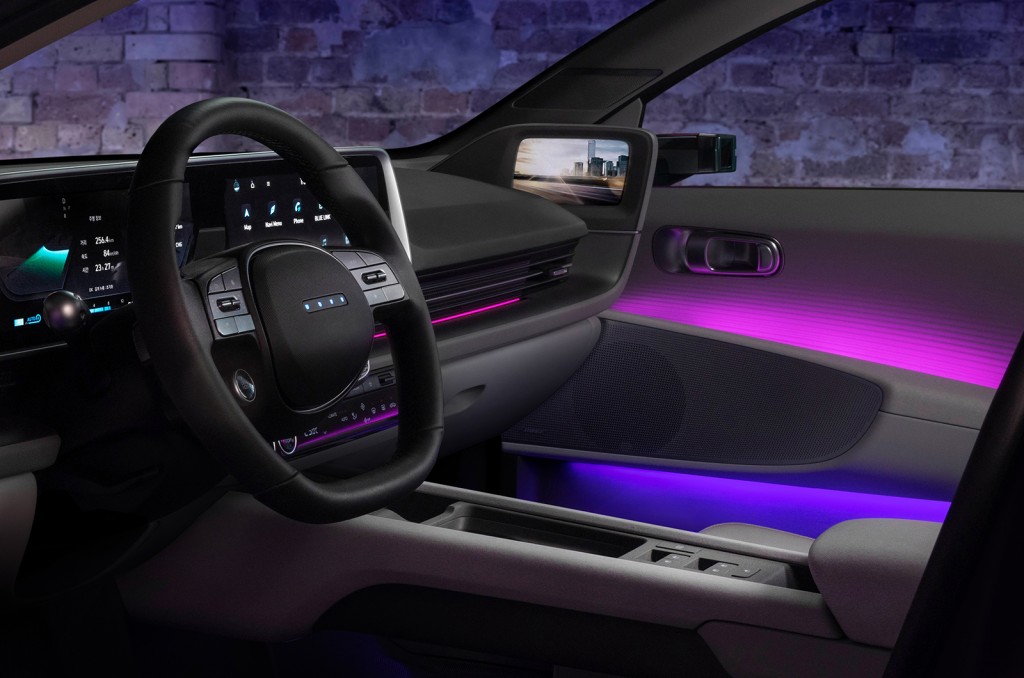 The flat centre console doubles up as a desk – in case that email simply can't wait until you get home – and floats to free up space in the front cabin. Meanwhile, the long wheelbase allows for competitive levels of legroom in both rows. 
It's a clean-thinking EV, too: you'll find flaxseed-dyed artificial leather, recycled PET plastics, vegetable-oil-based paints and recycled fishing nets throughout the cabin, and the Ioniq 6 can even be painted in a shade of green made from bamboo charcoal pigment… We've never seen that on the shelves in Halfords. 
The interior also features dual colour ambient lighting – with 64 available colours and six pre-selected themes, along with a Speed Sync Lighting mode that matches the colours to suit the vehicle's speed.
Up front there will be optional 'comfort seats', while the cabin will feature five USB ports (four USB-C, one USB-A). 
The modular dashboard features a 12in infotainment system and a 12in digital instrument cluster. It's compatible with Apple CarPlay and Android Auto, and two devices can be paired at one time – one for phone calls and one for audio. There's also an optional eight-speaker Bose sound system, and a range of driver assistance features.
We don't know how much it will cost yet, but a starting price of £45,000 would line the Ioniq 6 up neatly against its rivals, and place it just above the Ioniq 5 in Hyundai's growing EV line-up. 
The Ioniq 6 is due to go into production later this year, and while a launch date has not been confirmed yet it is expected to be in early 2023.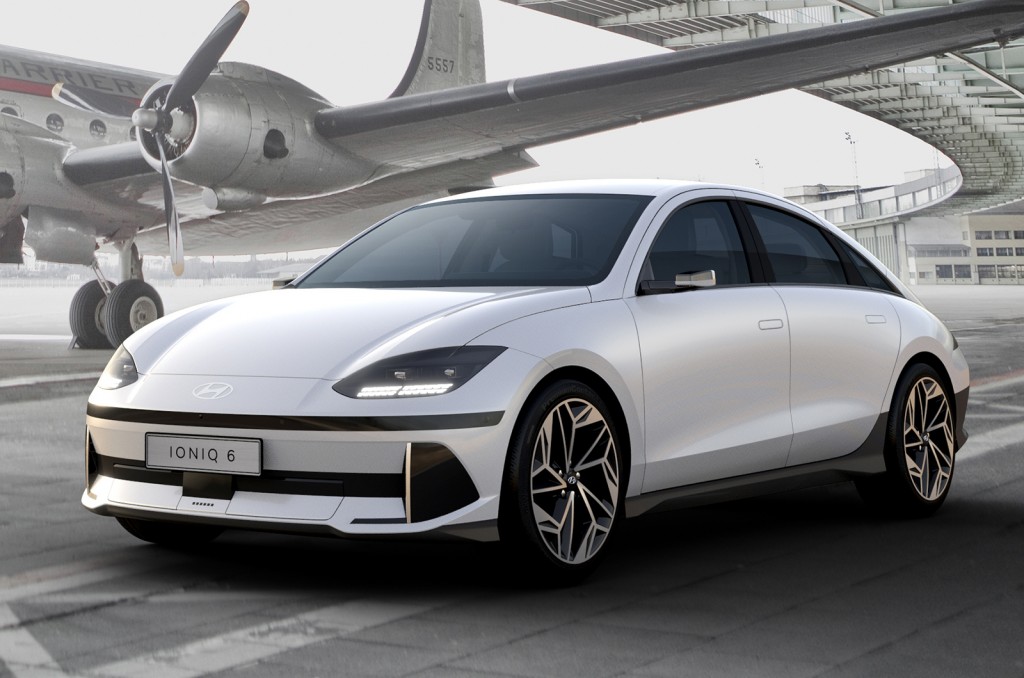 READ MORE
Subscribe to the Move Electric newsletter
e-CARS
UK charging networks: complete guide to every provider
New Cupra UrbanRebel is a bold EV supermini with 273-mile range
e-BIKES
10 fun things to try on an electric bike
Living with a Gocycle G4: how easy is it to adjust to?
e-MOTORBIKES
Seat Mó eScooter 125 UK review
How to do a CBT on an electric motorbike
Energica unveils new Experia electric tourer motorbike
e-SCOOTERS
Are e-scooters legal in the UK?
Private e-scooter rules 'cannot simply copy' rental regulations
Superpedestrian's European boss on why e-scooters are for everyone
e-WORLD
New Candela P-12 Shuttle to arrive as first electric 'flying' ferry
Pipistrel Velis Electro: meet the first certified electric plane