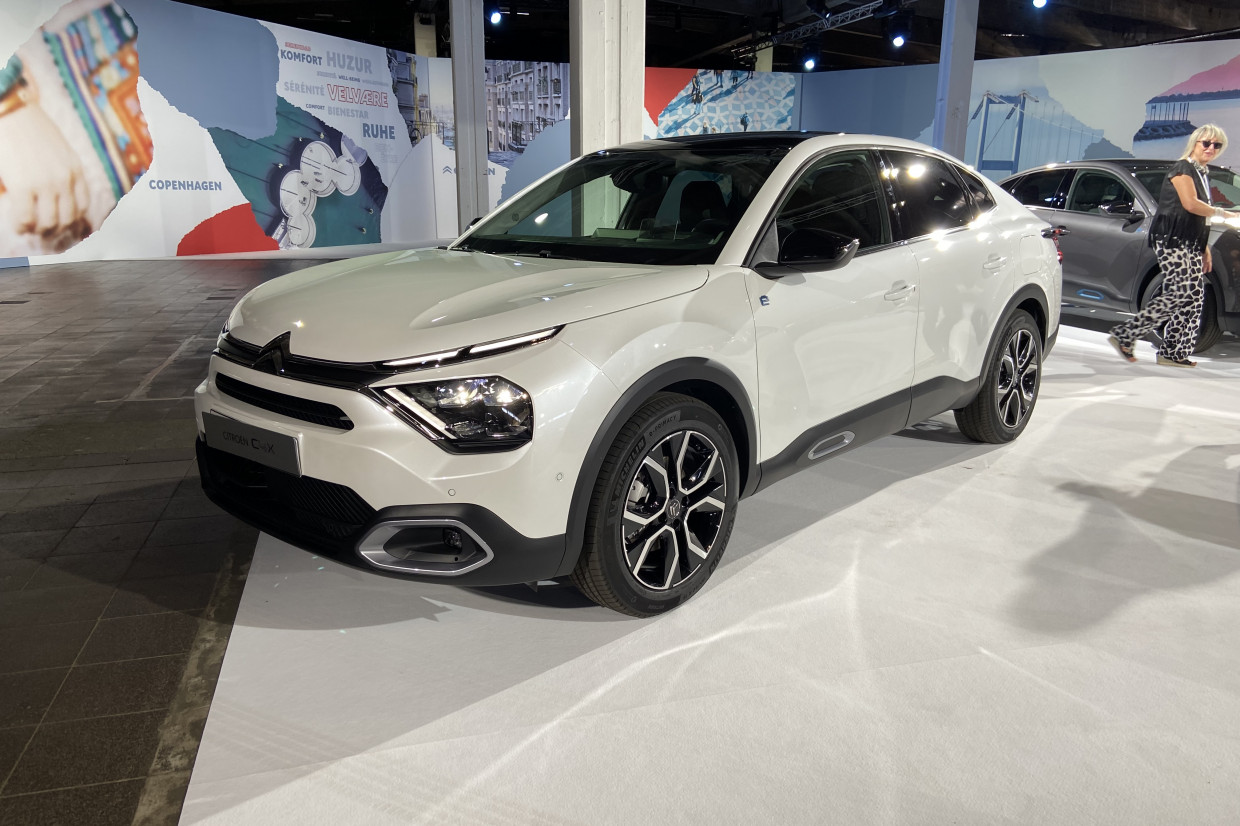 The Citroën e-C4 is a bit of a genre-bending mash-up, fusing the practicality of a hatchback with the sleek lines of a coupe and the rugged styling of an SUV. And now the French firm has introduced a new version that stretches that brief even further, by throwing in the swoopiness and space of a fastback saloon body.
The Citroën e-C4 X is designed to fill the gap between the C4 and the larger C5 Aircross and C5 X in the firm's line-up of family cars. As the name suggests, it isn't an entirely new machine, but the stretched boot certainly helps move it into a different market segment.
Having been revealed back in June, Citroën has now confirmed UK pricing for the e-C4 X: the Kia Niro EV and MG 5 rival will start from £31,995, which is £1000 more than the entry-level e-C4.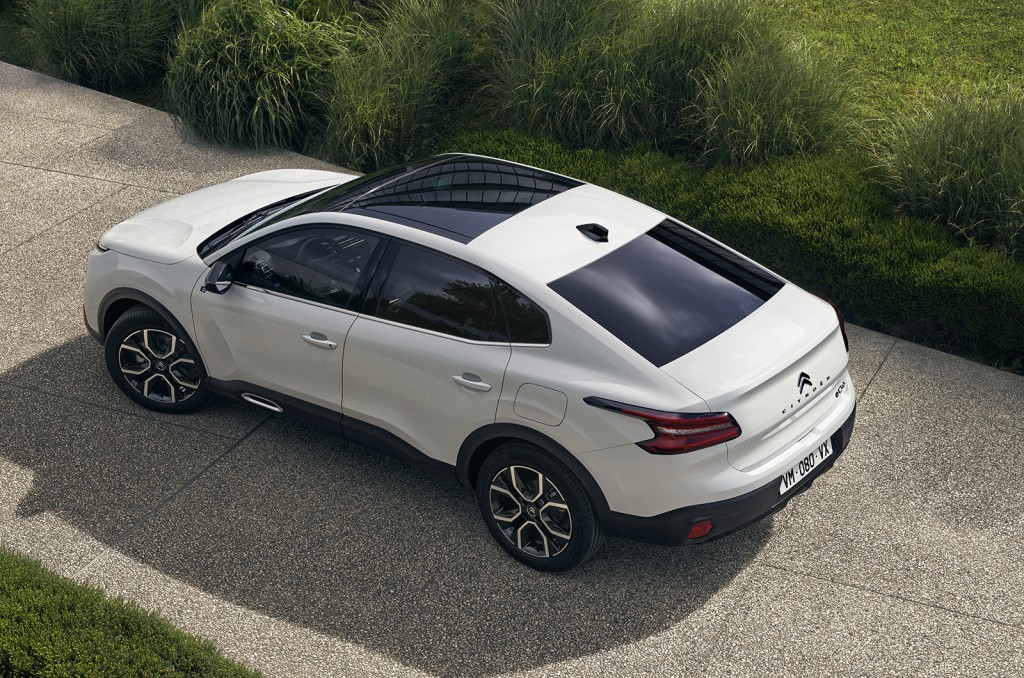 Notably, while the C4 is offered in both electric and combustion engined forms, in the UK and a number of other markets the e-C4 X will only be offered as a battery electric vehicle.
That means the e-C4 X is part of a growing range of Citroën models that are now only offered in the UK in full EV form, including the brilliant Citroën Ami quadricycle and the cavernous e-Berlingo MPV. 
Move Electric had an up-close look at the e-C4 X to get the full lowdown on Citroën's newest electric machine.
Why has Citroën made an e-C4 X anyway?
Good question, so we asked Laurence Hansen, Citroën's product and strategy director. And her simple, semi-joking answer: "Why not?"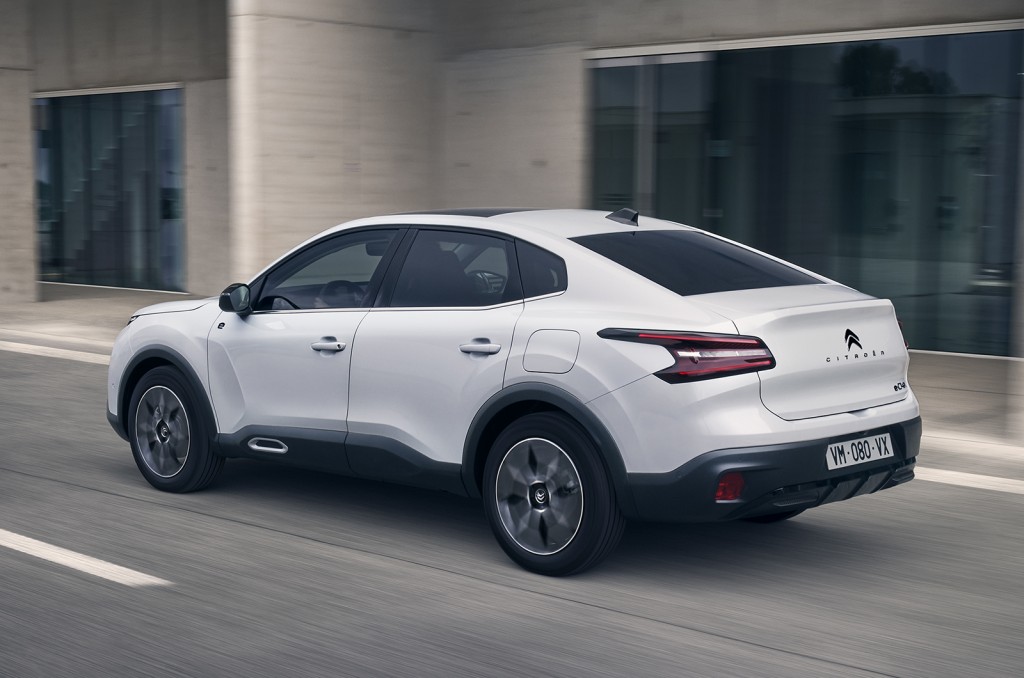 She added: "At Citroën we like to challenge the norms, we always do things differently. Today, vehicle categories are blending. We used to have A, B and C segment cars, but we thought we could propose something that could have the elegance of a fastback, the positive attitude of an SUV and the timelessness of a four-door. 
"We think some people may be tired of these SUVS, some people may wish to have a saloon that's a bit more modern. That's why we are proposing something different with the C4 X – with the X being the crossroads of a different universe."
Come on, is it just an e-C4 with a bigger boot?
Well, sort of. The e-C4 X is built on the same platform as the C4 (Citroën parent firm Stellantis's CMP small car architecture, since you were wondering), and the styling is virtually identical at the front of the car.
The difference starts from the B-pillars onwards, where the e-C4 X gains a new, elongated back end. Citroën calls it a fastback silhouette, and it effectively creates a saloon design with a dash more swooping style – and in doing so moves the e-C4 X into a significantly different market segment.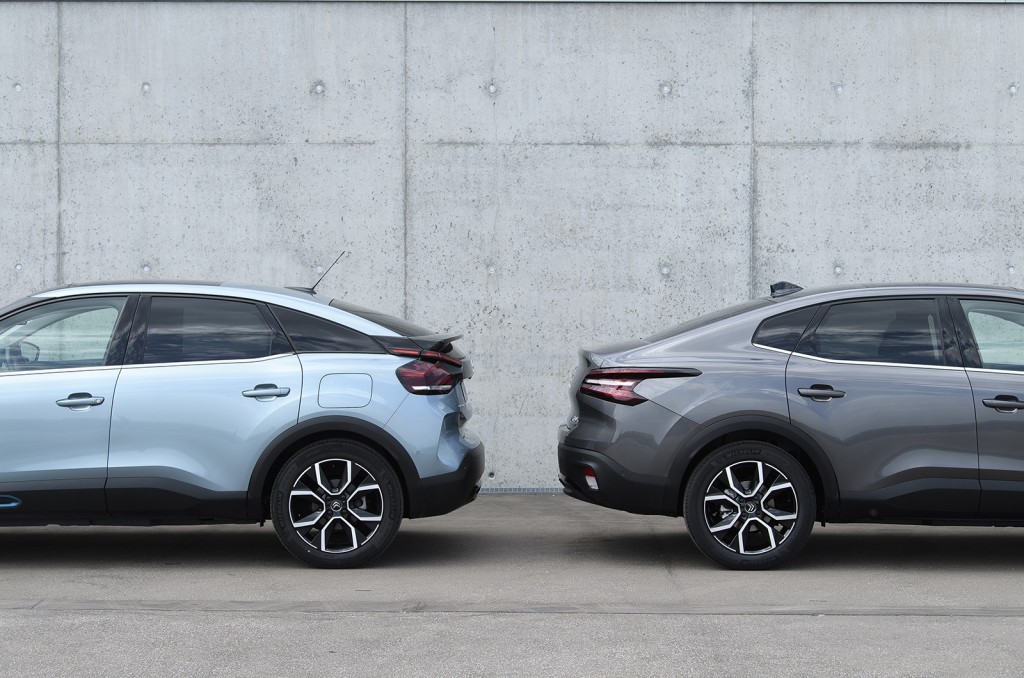 The new rear end has also made the new model substantially longer: at 4600mm it's a substantial 240mm longer than the regular e-C4, and 200mm shorter than the larger Citroën C5 X (which at the moment is only offered in ICE and plug-in hybrid form). In fact, Citroën design chief Pierre Leclerq said that the e-C4 X is the biggest car it would be possible to make using the CMP platform.
The wheelbase of the car is unchanged at 2670mm, which means that the bulk of the extra length is used to increase the space in the rear of the car. So rear passengers now get 198mm of knee room – which is helped by the rear seats being relined by 27 degrees – and the boot has a capacity of 510 litres. That, since you were about to ask, is a whopping 130 litres more than the regular e-C4.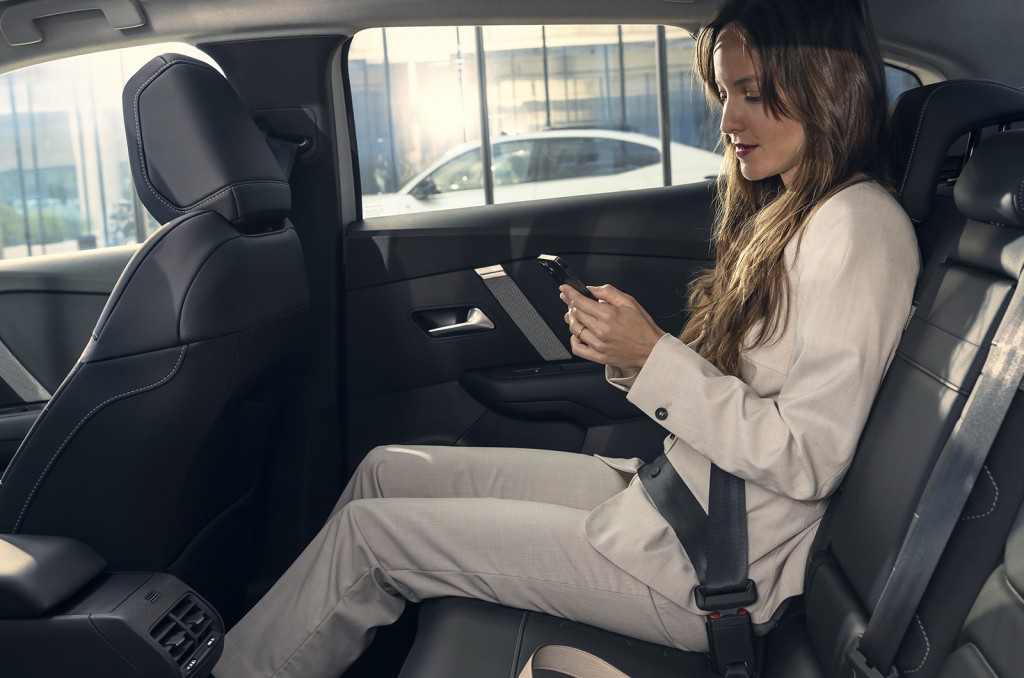 Another notable change on that boot design: it's a fixed saloon design, rather than a wide-opening hatchback. That's because, in combustion-engined form, Citroën has big plans for the C4 X in the Middle East and Africa, where saloons remain far more popular than hatchbacks. Why? Because separate boots let less dust into the cabin of a car than hatchbacks when you open them, apparently. So there.
What about the styling?
Although the front end of the e-C4 X is basically unchanged from the e-C4, Citroën's design team has put in plenty of effort to give the new machine its own distinct personality. So the roof is designed to flow elegantly down to the rear boot lid. 
That boot lid features a small but notable spoiler, while there are bespoke new LED rear lights and bumper. The car also features a number of black inserts, similar to those seen on the C5 X, which are designed to give the machine a touch of extra rugged SUV styling.
"The request from the strategy department was to make another car based on the C4, but it has to reach 4.6 metres and have a huge boot – but we don't want a limousine, it has to be exciting, sexy," Leclerq told Move Electric.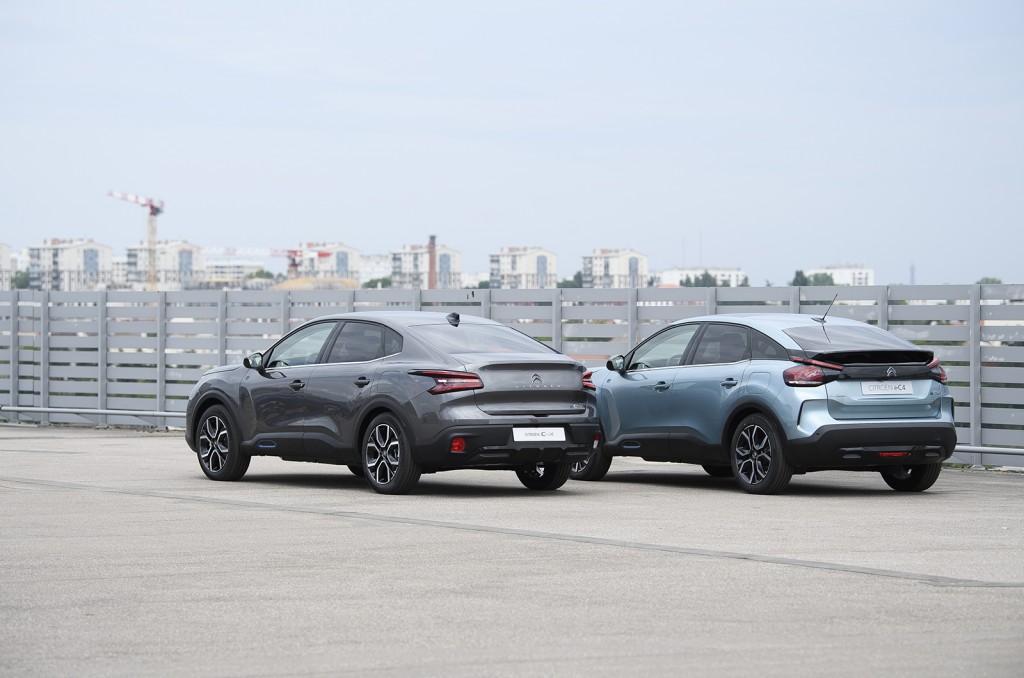 "Adding 25 centimetres to the rear is really not what a designer wants, because you have to shift the masses a bit. So we wanted to do something super sexy, stretched, so we tilted the rear forward and gave it an attitude that is almost unique."
The swooping roofline isn't entirely just for looks, either: with an aerodynamic efficiency of 0.29Cd the car has a range of 224 miles – that's five miles more than the slightly more boxy e-C4.
Why didn't Citroën alter the front styling more?
Leclerq said that decision to retain the front end of the e-C4 on the new car was partly because the firm was happy with that design, and partly due to the resources and time available for the project.
"You've got to use your money wisely," said Leclerq. "If you look at the rear lights I'm super happy with what we've done. For some brands it's obvious, but for us to get the right technology in the rear lights is not always obvious, because we're trying to make our cars affordable to all. But we still want to make money on it, so we have to do it in a much more clever and efficient way than other brands."
Besides, Leclerq believes that "no-one should dislike" the design of the e-C4 X. He added: "You have cars that are so disruptive that some people are going to hate it, and some people are going to love it. We have to make products like that, because we need them for certain areas we want to push. But this is a car that I think nobody should dislike."
What else is new?
While the front cabin is largely unchanged from the regular e-C4, the e-C4 X does feature the new MyCitroën Drive Plus infotainment system that was first introduced on the C5 X. If features a larger 10in touchscreen, and can be customised with a series of smartphone-style 'widgets' – touchscreen shortcuts, basically.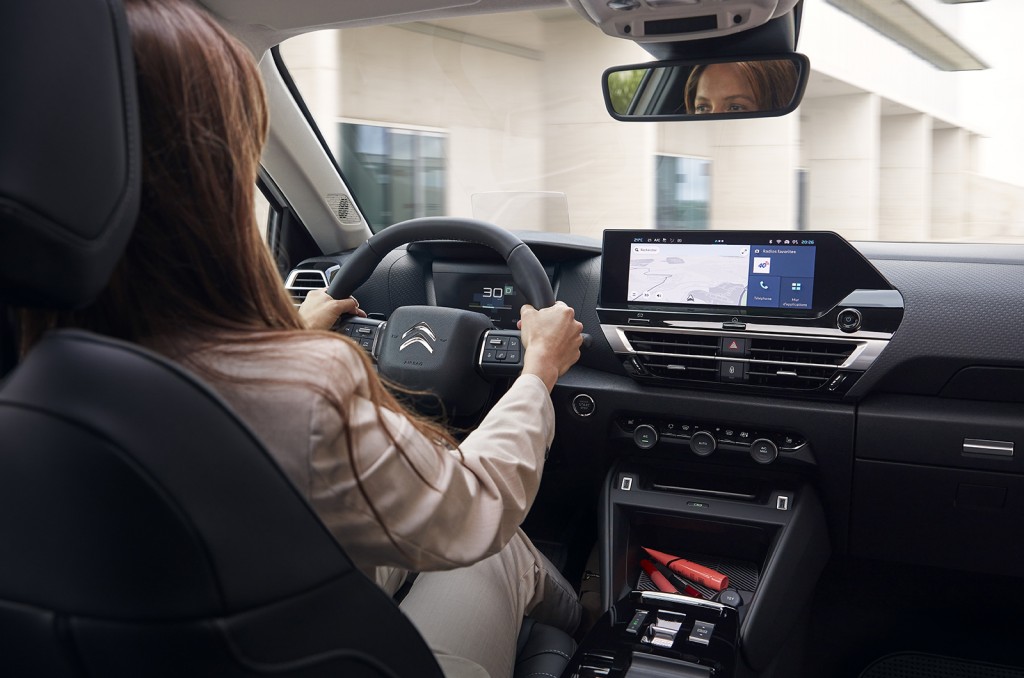 The new system features 'natural' voice recognition, can store up to eight individual profiles and can pair with up to two smartphones. 
Oh, and because these things are often important, the e-C4 X features up to four USB sockets: two in the centre console and two in the back (each pair features one USB-A and one USB-C port).
What about the powertrain?
That is carried over unchanged from the e-C4. So the e-C4 X features a 100kW (134bhp) motor that offers 192lb ft of torque, giving a 0-62mph time of 9.5 seconds and a top speed of 93mph.
Power is drawn from a 50kWh battery, which can be charged at speeds of up to 100kW on a DC fast-charger. That results in a 0-80% charge in 30 minutes, while a full charge takes 7.5 hours on a 32 amp wallbox.
The UK won't be the only market that will only receive the C4 X in full electric form: other markets that will go electric only will include the Nordic region, Germany, Austria, Belgium, Luxembourg, the Netherlands and Portugal.
The decision on which powertrain will be available where was made by the local Citroën operation in each market in consultation with the firm's French headquarters.
While it is likely to be a relatively niche model, it should help fill a gap in Citroën's electric-only line-up above the e-C4, until an electric version of the larger C5 Aircross or C5 X arrives. 
Citroën believes that the machine will appeal to families who need an affordable option with plenty of storage, and as a private hire machine for operators who want an EV with a big boot and lots of rear space to ferry customers to or from an airport.
What will it cost me?
The entry-level Sense range start from £31,995 and includes 18in alloy wheels, Citroën's Advanced Comfort seats, a 10in infotainment touchscreen and driver assistance features including active safety brake, lanes keeping assist and forward collision warning.
Mid-level Shine trim is priced from £34,495 adds the upgraded My Citroën Drive Plus infotainment with voice control, a head-up display, reversing camera, automatic dipping headlights, a heated steering wheel and advanced active safety braking. 
Starting at £35,495 top-spec Shine Plus trim adds Alcantara heated front seats and highway assist including adaptive cruise control.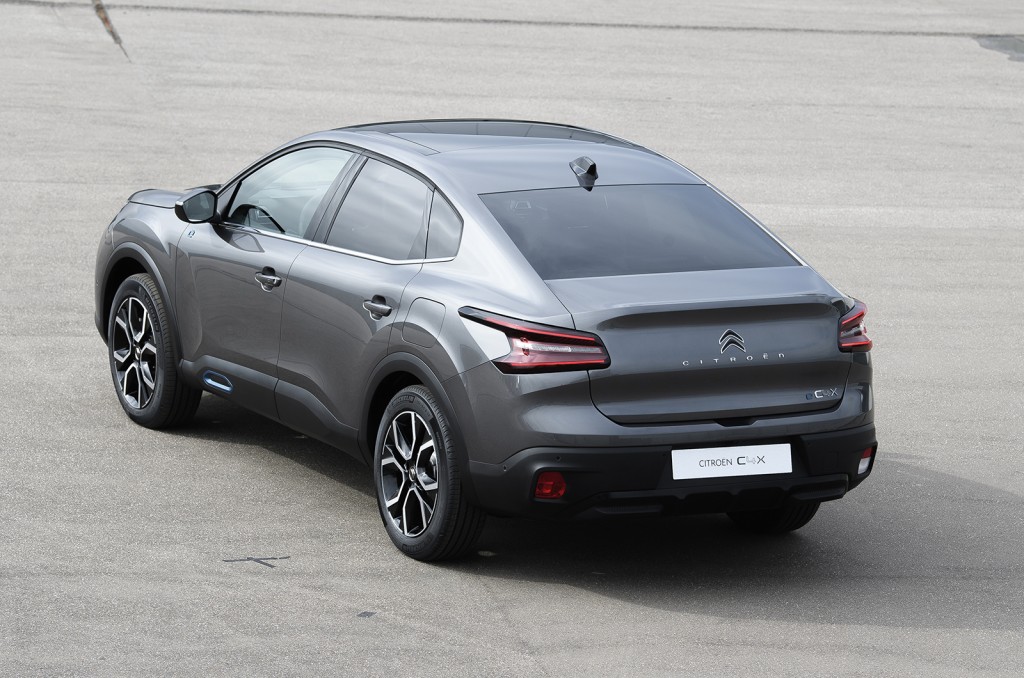 READ MORE
Subscribe to the Move Electric newsletter
e-CARS
UK charging networks: complete guide to every provider
New Cupra UrbanRebel is a bold EV supermini with 273-mile range
e-BIKES
10 fun things to try on an electric bike
Living with a Gocycle G4: how easy is it to adjust to?
e-MOTORBIKES
Seat Mó eScooter 125 UK review
How to do a CBT on an electric motorbike
Energica unveils new Experia electric tourer motorbike
e-SCOOTERS
Are e-scooters legal in the UK?
Private e-scooter rules 'cannot simply copy' rental regulations
Superpedestrian's European boss on why e-scooters are for everyone
e-WORLD
New Candela P-12 Shuttle to arrive as first electric 'flying' ferry
Pipistrel Velis Electro: meet the first certified electric plane