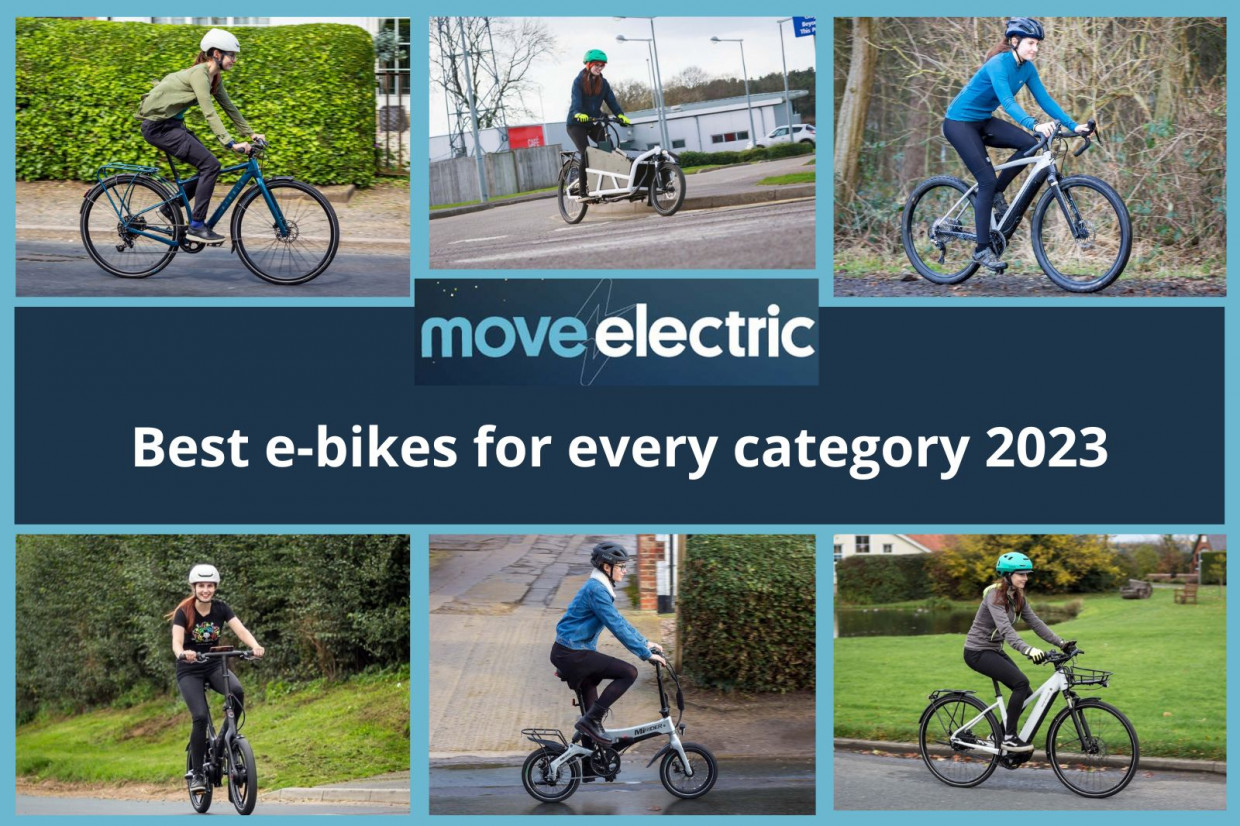 The world of electric bikes is growing at a serious pace, with more innovative and advanced machines being added to the market. With so much choice on offer, it can be hard to decipher which e-bike to go for.
Five reasons why you should use an e-bike to cycle to work
How e-bikes make cycling more accessible
Electric bike FAQs – everything you need to know
In a bid to make that task easier, we have broken down the best electric bikes in every category from folding e-bikes to electric mountain bikes. 
Folding e-bikes
Gocycle G4 - £3999 
Combining the portability of a folding electric bike with the engineering prowess of a former McLaren car designer, the Gocycle G4 is understandably popular among its fans. It's the fourth generation of the Gocycle and sits just below the higher-priced G4i. At just shy of £4k it's not a cheap bike by any stretch, but it's certainly worth a consideration based on the specification and ride quality alone. 
Living with a Gocycle G4: Move Electric long-term test 
The proprietary 3-speed drivetrain provides crisp shifting, while the G4drive™ front hub motor powers the assist nicely without it taking over the ride feel. A handy boost button is incorporated to help at junctions and on hills, and 20" wheels enhance the ride quality. The hydraulic disc brakes perform well and the 330Wh battery provides up to 40 miles of range. 
Proprietary kit like the motor and drivetrain might put some people off, but the entire bike is designed to be easily disassembled and maintained for years to come. It's 17.6kg in weight thanks to the combination of carbon and alloy in the frame. The specially designed wheels are easy to remove for puncture repair, and there are various accessories included like mudguards and lights. 
Paired with the GocycleConnectApp, it's one incredibly smart bike that will get you from A to B and beyond with a smile on your face.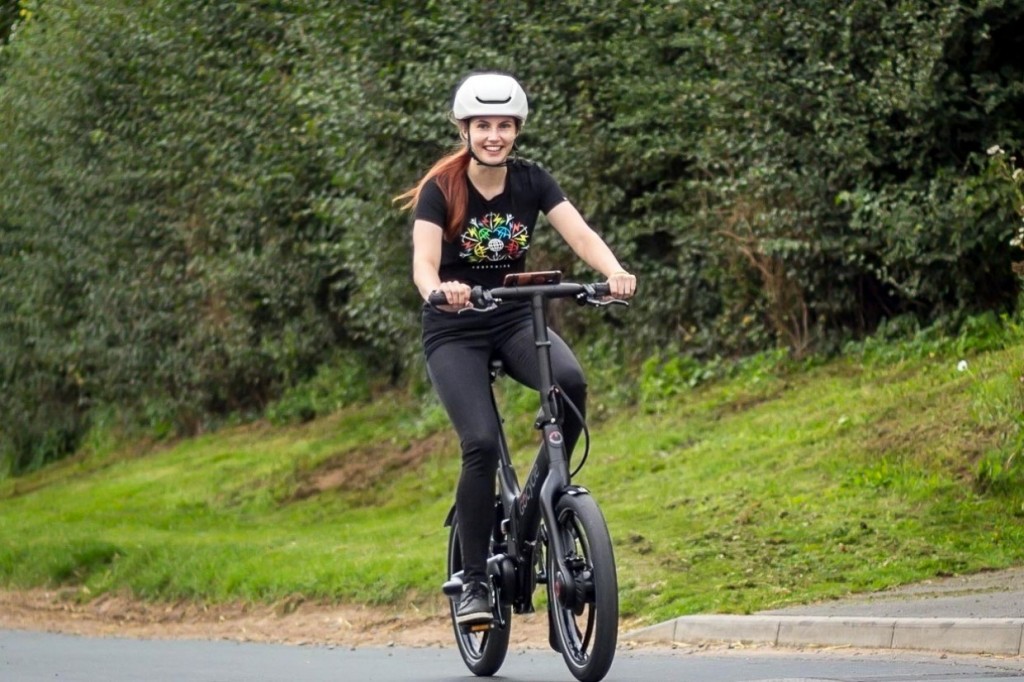 Brompton Electric C Line: Explore - £2995 
Brompton is the big name in folding bikes and has been for some time now. One of the first brands to embody the idea of hinging the frame to condense the size, they've now expanded into the electric bike market. 
The C Line: Explore is priced at £2995, which is by no means cheap but not the most expensive folding e-bike money can buy either. The front-wheel houses the 250W hub motor and the rear wheel contains an internal three-speed gear hub, with two external gears to complement it. 
A 300Wh battery provides an estimated 20-45 miles of range, and for the motorsport fans among us, they will be interested to learn it was made in partnership with Williams Advanced Engineering.
Unlike some of the other frames in this list, the C Line: Explore is constructed from steel, but it hasn't had a detrimental impact on weight as the entire bike is just 14.5kg. Riders can also choose from two handlebar styles, either mid or high, to complement their riding styles. 
A British staple and household name brand, it would be remiss of us to miss Brompton's electric bike off this list. Whether it provides enough in terms of componentry for the money is to be determined, but a popular choice nonetheless. 
MiRider One - £1595
One of the best close to budget folding e-bikes we've tested, the MiRider One holds its own against the more expensive competition. It's easy to wheel about when folded, something that other folding bikes lack, and has a smaller wheel under the bottom bracket area to help with this. A strong magnet keeps it together when folded, and it can fit in the boot of a small hatchback. 
The MiRider One is single-speed but we found it worked well over most terrain, thanks to the five levels of motor assist. The front hub motor provides reliable assistance up to a claimed 25% incline. 
The promised battery range is up to 45 miles, and it comes with a 252Wh, 7Ah battery inside the frame. Interestingly, the One comes with a rear shock to absorb some of the road buzz when riding. 
It is shipped with 16" wheels, mechanical disc brakes, and includes a kickstand, mudguards and integrated lights. Overall, it's a decent portable e-bike for the money and has some great features that can make it an attractive commuting and leisure bike.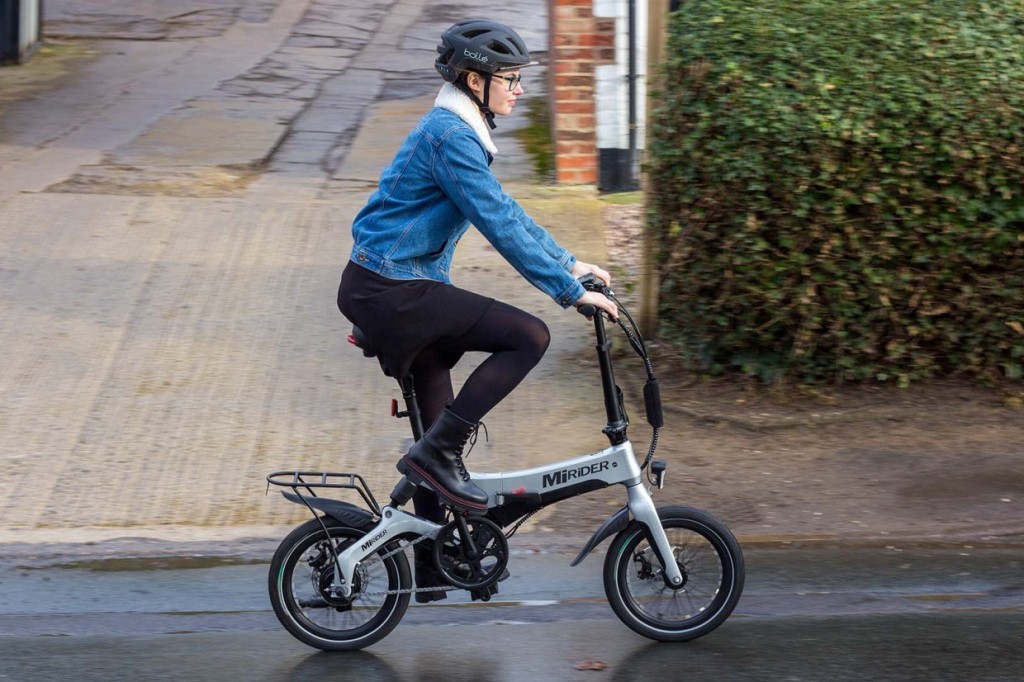 Tern Vektron S10 - £3700
A folding electric cargo bike? Yes! Capable of carrying 27kg on the rear rack, it's designed for parents on the school run with small children, or those who need a bit more than a conventional rack can offer. 
The price is a little scary at first, considering you can buy either a decent folding bike or a cargo bike for the price, but the beauty of the Vektron S10 is that it takes the manoeuvrability of a folding frame and combines it with the increased carrying capacity of a cargo bike. Admittedly, 27kg is a long way off from the 200kg load weight often advertised on larger cargo bikes, and if your child outgrows it then it may lose its charm. 
However, the kit spec on this bike may be enough to sway even the most captious consumer. One of the only folding e-bikes to have a mid-drive motor, Tern has gone for the Bosch Performance Line and Bosch PowerPack 400Wh battery, which provides up to 100km of range. Hydraulic Magura disc brakes and complete frame adjustability make it accessible to most riders. 
Overall, it's a high price but the Vektron S10 has a lot going for it to be among the most versatile folding e-bikes on the market today. 
Urban e-bikes
Ribble Hybrid Al e (Fully Loaded Edition) - £2299 
Winner of the Best Electric Bike of the Year Award at this year's Move Electric Awards, the Ribble Hybrid Al e ticks a lot of boxes, not just for the commuter, but for the leisure rider as well. It's lightweight at only 14.5kg including the motor and battery units, and rides well even with the motor turned off. 
The aluminium frame paired with Schwalbe 35mm tyres rides nicely even over pothole laden roads. The MAHLE SmartBike x35+ motor and battery is a neat system seen in a lot of the more subtle appearing e-bikes, and for good reason. It's lightweight, tucks away nicely into the frame and provides a decent boost of assist on its three settings. You can adjust these in the accompanying app to tailor each setting to your needs. 
The motor is controlled via the iWoc® One button on the top tube. While a screen is preferable for some, the subtlety of this button and easy to use control system is a nice alternative and frees up handlebar space for lights.
The Fully Loaded Edition comes with a rear rack, which provides a great alternative to carrying a rucksack everywhere. Panniers are great for commuting as well as food shopping and other errands, and with this stunning bike from Ribble, it's more than possible to do so.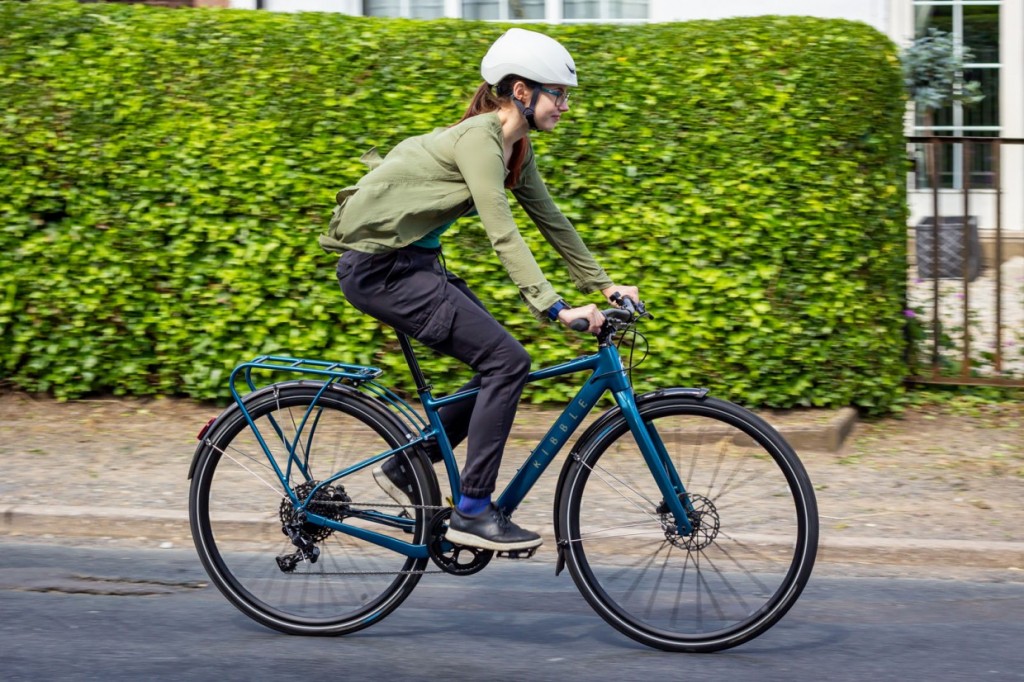 LeMond Prolog - £4350 
The return of the brilliant Greg LeMond to bicycle manufacturing was worth the wait. After his road bike company disappeared in the 2000s, LeMond spent the next years working with industry-leading engineers and designers to build the
What came of this hard work was the Prolog and the Dutch. The Prolog is a versatile e-bike with flat bars and plenty of personality behind the crisp white carbon fibre exterior. The ride quality is second to none, and the use of the MAHLE SmartBike Systems motor was unquestionably the right choice. 
The only bugbear we had with this bike is the necessity of carbon fibre for everyday riding. It's not something we would ever turn down, but you do pay the price for it, namely, £4350. The monocoque cockpit is also non-adjustable, so if you're not entirely comfortable with the stem length or bar width, you're out of luck. 
An absolutely beautiful bike to ride, the Prolog is the perfect foray into e-bikes for discerning riders who may prioritise the look of the bike to tempt them into riding it, whether it's to get to work or for other trips.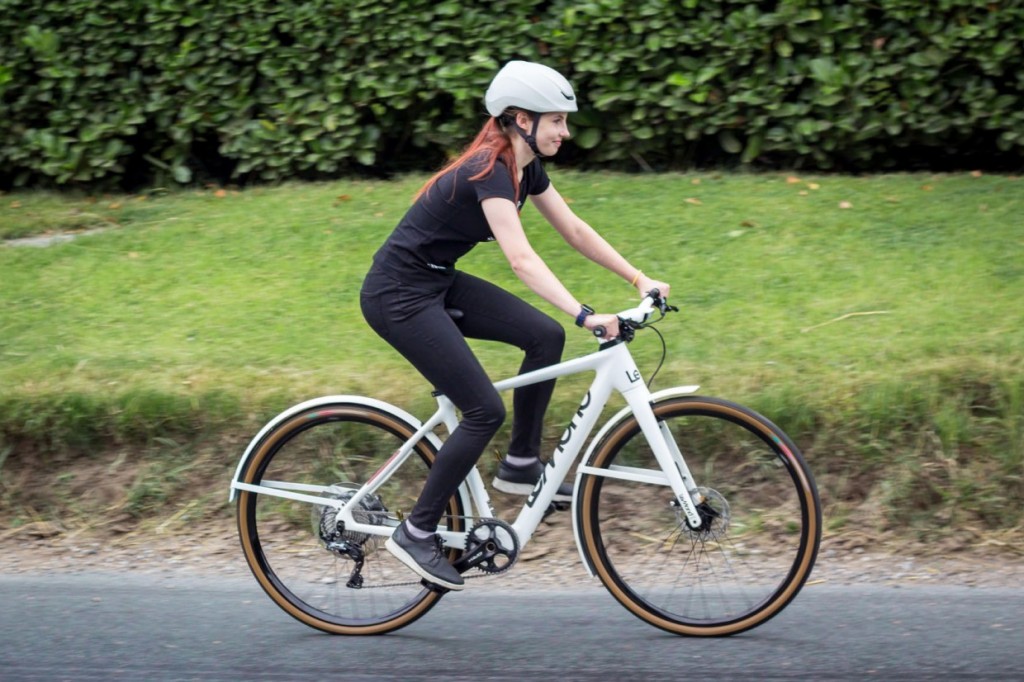 VanMoof X3/S3 - £2148
The ever-popular VanMoof X3/S3 models are a stalwart of the urban electric bike scene. If you're wondering why we've included both models, it's because they cater to different rider heights. 
At just over £2k, it's a very tempting price for an urban machine designed to repel would-be thieves. A companion app really brings the bike to life with the ability to track your rides and the location of your bike in case it gets stolen. If you want a little bit more protection you can pay VanMoof for a 'Peace of Mind' package, which involves enlisting the help of Bike Hunters to track down your bike if it gets stolen – and, if they can't, they will replace your bike with a new one. 
The front wheel hub motor is complemented by the electronic automatic gear shifting. It can be a little clunky, but good enough if you live in a flat area and don't want to worry about what gear you're in. At 20.8kg it's not something you'll be lugging up and down stairs very often, but it's agile enough when you ride it. 
The integrated tech shows promise and the concentration on making it as un-stealable as possible is a big tick, particularly for the urban market.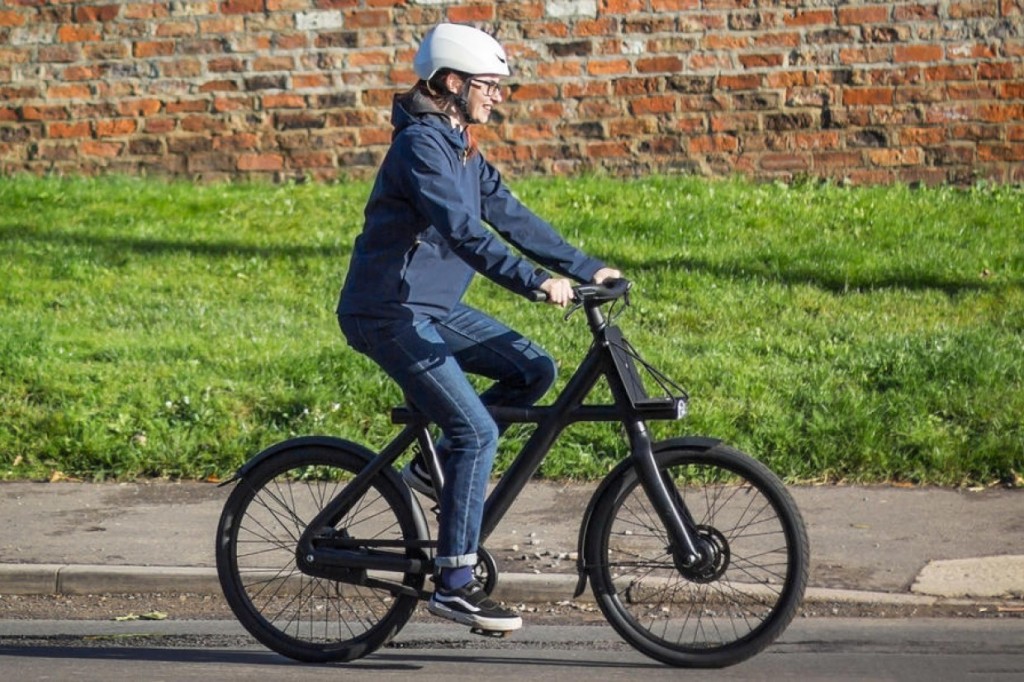 Riese & Müller Roadster Mixte Vario - £4669
Quality German engineering at its fines, the Riese & Müller Roadster Mixte Vario is a premium urban bike that can go anywhere. They've gone all-in with a Bosch Performance Line CX mid-drive motor which is one of the best e-bike motors we've tested. Combined with the 500Wh battery, there's plenty of range for commuting or leisure rides in and out of the city. 
Interestingly, Riese & Müller has included front suspension in the form of Suntour NCX 28" forks. Paired with 40mm tyres, this bike is supremely comfortable, although a little heavy at times, as it is 24.5kg. 
The Enviolo gear hub offers plenty of gear choices, and you can change gear when standing still. No matter how hard we try, sometimes you're not in the right gear to set off from a junction so it's handy to have the ability to change at a standstill without damaging the gears. 
The elephant in the room is the price, but with the high spec of tech and premium design, it's easy to see how it adds up. It's worth the investment for many but if you want something a little less utilitarian and lightweight then this may not be the bike for you.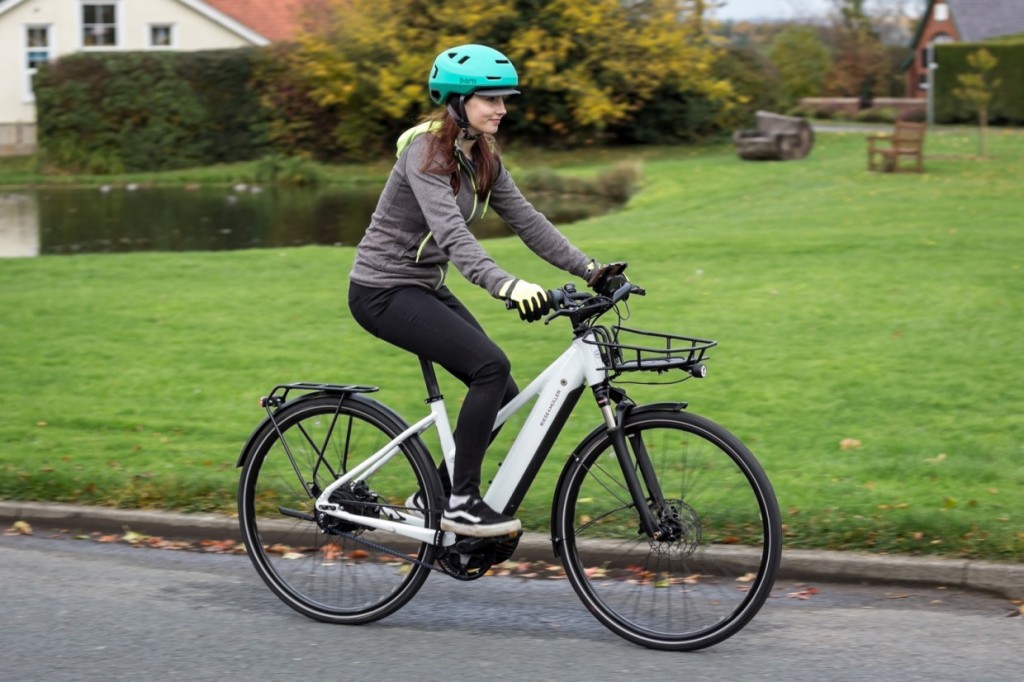 Gravel e-bikes
Cairn E-Adventure 1.0 - £2989 
A pure gravel beast, the Cairn E-Adventure 1.0 is designed in Britain and built for British terrain. Cairn Cycles are based in the southeast of England and are a relatively new brand, although you could argue gravel is a recent concept also. 
It feels very at home on the off-road stuff, from tame cobbled lanes to rocky descents on the Yorkshire Moors. The only time the Cairn feels a little out of its depth is in mud but that's down to tyre choice more than anything else. The bike uses the Fazua Evation motor and battery system which interestingly is situated in a removable case in the downtube. The new version of which is easier to remove and less prone to sticking than the older one. And with the niggles fixed, it's an easy to maintain system. 
It's great even on steep climbs, and the flared bars help massively with the feeling of control. At just shy of £3k it's great value and you get a Shimano GRX 11-speed drivetrain with Hunt wheels. As it is such a pure off-road bike, it's not as smooth or fast on the tarmac as some others on this list, which realistically is what you'll have to ride it on at least some of the time, unless you're lucky enough to live next to a national park.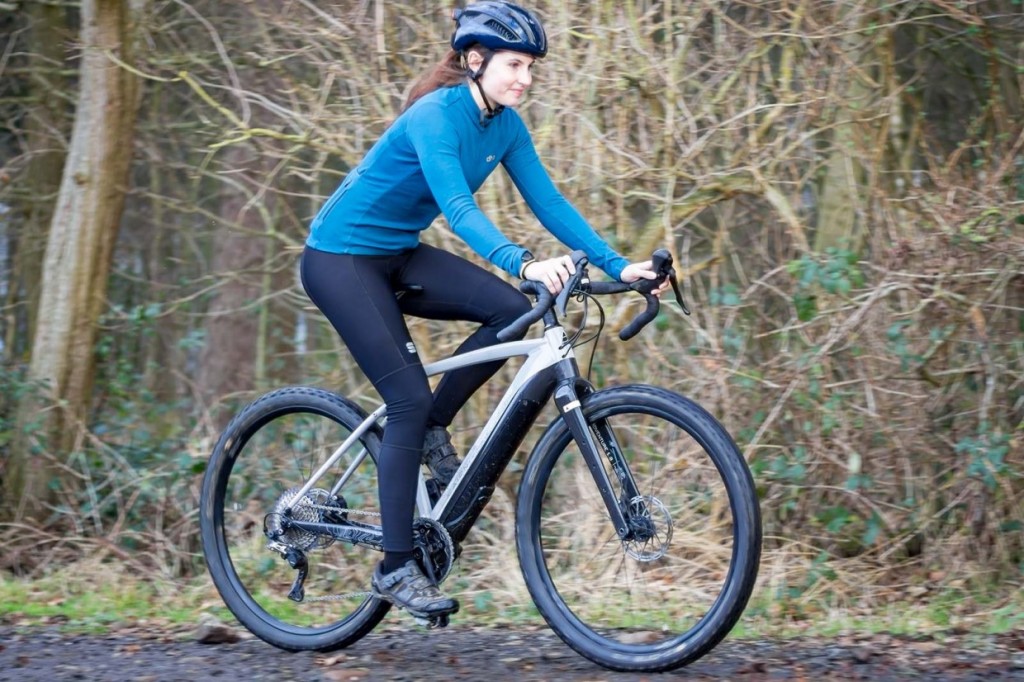 Canyon Grail:ON (CF 7) - £4699
From the sleek carbon frame to the impeccable Bosch mid-drive motor, there's not a lot to fault with the Canyon Grail: ON. It is quite a lot of money, but if you're after a do-it-all bike that's just at home on the bridleway as it is on the road, the Grail:ON is a great choice. 
The big sell for this bike is the Bosch CX Performance Line mid-drive motor, and a 500Wh battery. It can go for miles, as we found out in our test ride last year. The LCD on the handlebar is really useful and gives you a rough indication of how many miles you have left in each assist mode. 
The other eye-catching thing about this bike is the handlebars. They are certainly unique, and at first glance, might appear to be a little bizarre, but once you've used them it's easy to appreciate the design. More hand placements reduce fatigue, although one issue we had was struggling to comfortably reach the levers with our hands on the drops – so if you have small hands like our tester, be cautious of this.
For the rest of your £4699, you get a Shimano GRX 11-speed drivetrain and 17.1kg of bike, and we think although it's a little pricey, you do get a lot for your money.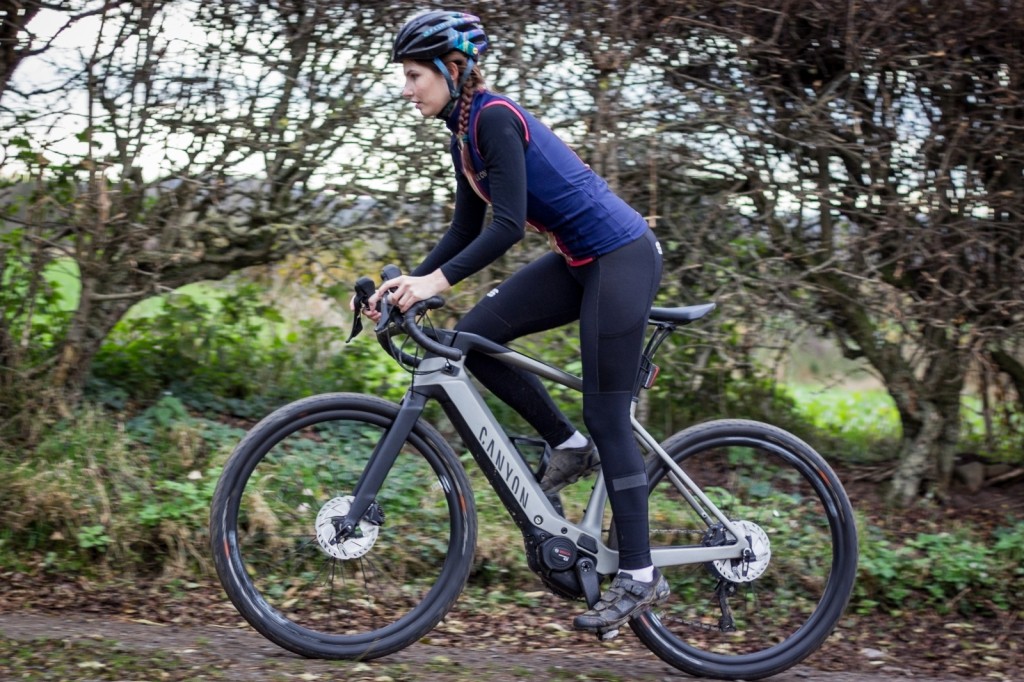 Ribble CGR AL e - £2699
The Ribble CGR AL e uses the same MAHLE SmartBike Systems motor and battery as the rest of their electric bike range and provides a reliable assist. One thing we were cautious of was the ease of changing assist level off-road. With handlebar-mounted remotes, it's easy to change up and down depending on the terrain, but with the single button option on the top tube, you have to cycle through if you want to lower the assist. If you're concentrating on trying to get up a tricky technical section you might not want to be worrying about what colour setting you're on, but this may be personal preference. 
The Shimano 105 11-speed drivetrain is somewhat of a workhorse of the Shimano range and you get great value for money on it. It's relatively cheap to replace and can last well under regular maintenance. 
It's hard to ignore the CGR AL e not just for the price but for the light weight. At 13.3kg it's not much heavier than other e-bikes in their range, but far more capable off-road. For £1699 we think it's a great entry to mid-level choice, and you can always upgrade the groupset at a later date if you change your mind or want a more off-road oriented drivetrain.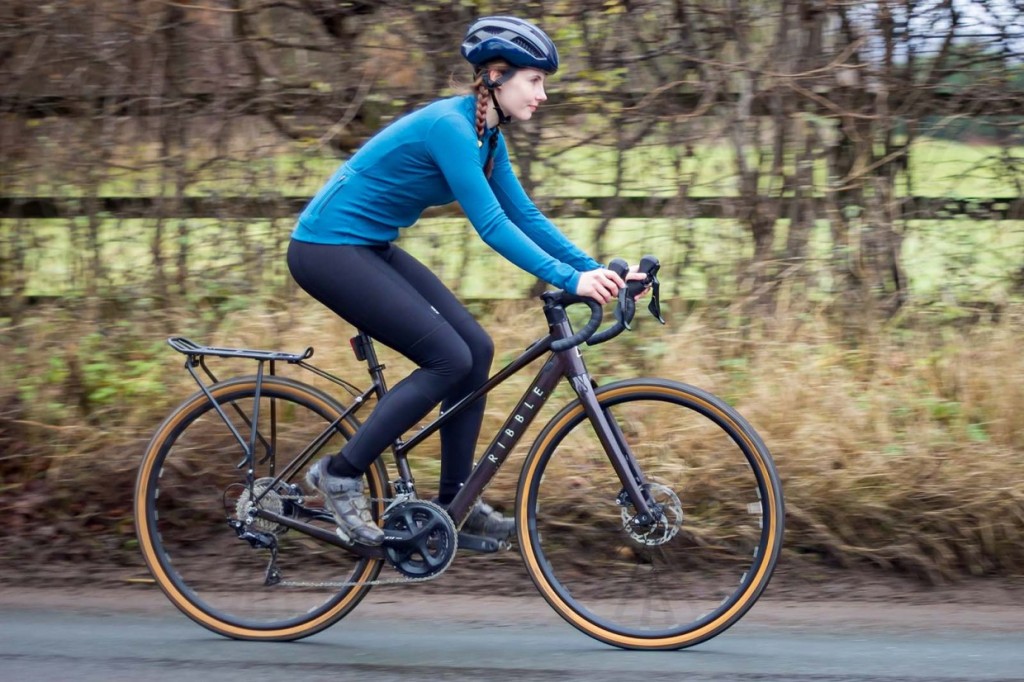 Look E-765 Gravel - £4999
A sleek, stylish entry from the French brand, the Look E-765 Gravel is a sight to behold on the bridleways and fire roads. Using the Fazua Evation motor, access to the battery and motor is straightforward as they are removed from the downtube with a single click. Look claim they've designed the bike around this motor and the beauty of it is that removing the motor, although leaving a gap at the downtube, means you can ride the bike like an unassisted gravel bike. 
It comes with a SRAM Rival 1x drivetrain, hydraulic disc brakes and a carbon fibre frame. Altogether it weighs in at 14.1kg, which is still quite lightweight considering all the kit on board. 
One thing to be aware of with this bike is the max tyre width of 700 x 40mm. While that's nothing to be laughed at, tyres on gravel bikes are getting wider and wider, entering mountain bike territory and if you want something that can keep up with these trends, you'll need a frame that can accommodate it.
This is a bike with pure aesthetic pleasure, so if you're someone who enjoys staring at their bike as much as riding it, this is a great option. We're mindful of the big asking price, however. 
E-cargo bikes 
Benno Boost E – Low Step - £4799 
Benno's Boost E – Low Step combines the agility of a shorter wheelbase e-bike with the carrying capacity of a longer cargo bike. This versatility is what Benno call, 'Etility' or electric utility. This design works really well and doesn't compromise on what (or who) you can carry just for the sake of taking up less room. 
The trouble with e-cargo bikes is that they take up a lot of storage space. Not as much as a car, granted, but for those with small homes or no secure areas to lock the bike to, this sort of e-cargo bike can really appeal, and that's what we loved about it. 
It can carry up to 200kg including bike and rider, which is similar to many larger e-cargo bikes you'll see. The Boost E – Low Step has a low slung top tube to make it easier to get on and off, which in turn makes it more accessible. 
The brand has gone with a Shimano Deore 10-speed drivetrain, which is mid-level but paired with the Bosch Performance Line mid-drive motor and battery, works well. There is space for two batteries on this bike so you can vastly increase the range – helpful if you are carrying heavy loads and/or live in a hilly area which all contributes to significantly draining the battery. 
Riese & Müller Load 60 Rohloff 2022 - £5911 
A super capacious front loading electric cargo bike, the Riese & Müller Load 60 Rohloff 2022 comes with big expectations and a big price. 'You can buy a small hatchback for that price!' we hear you cry. Perhaps, but in the grand scheme of things, the maintenance and replacement costs of this bike are far less than you'd spend on a car. 
The front, cargo-carrying area of the bike comes with a bucket within which you can accessorize to your heart's content. For example, you can buy seats to fit children and covers so they don't get wet.
We found the ride quality decent once you get the hand of wielding such a long bike. The smaller front wheel can be a little unnerving, due in part to the length of the steering arm from the bars to the wheel. 
The motor performs excellently, so you never feel like you're struggling. Even setting off, the assist kicks in quickly as you pedal. One big draw for people and this bike is the Rohloff gears. These are internal gear hubs and are controlled via the handlebar-mounted unit. We found them slightly clunky but not bad by any stretch of the imagination. They can provide plenty of range of gears for the rider and have the benefits of being an enclosed hub so regular maintenance is far less needed than those with a chain drive and external gears. 
There's no denying the excellent capacity of this bike, nor the quality of the build. But the price tag will raise some eyebrows.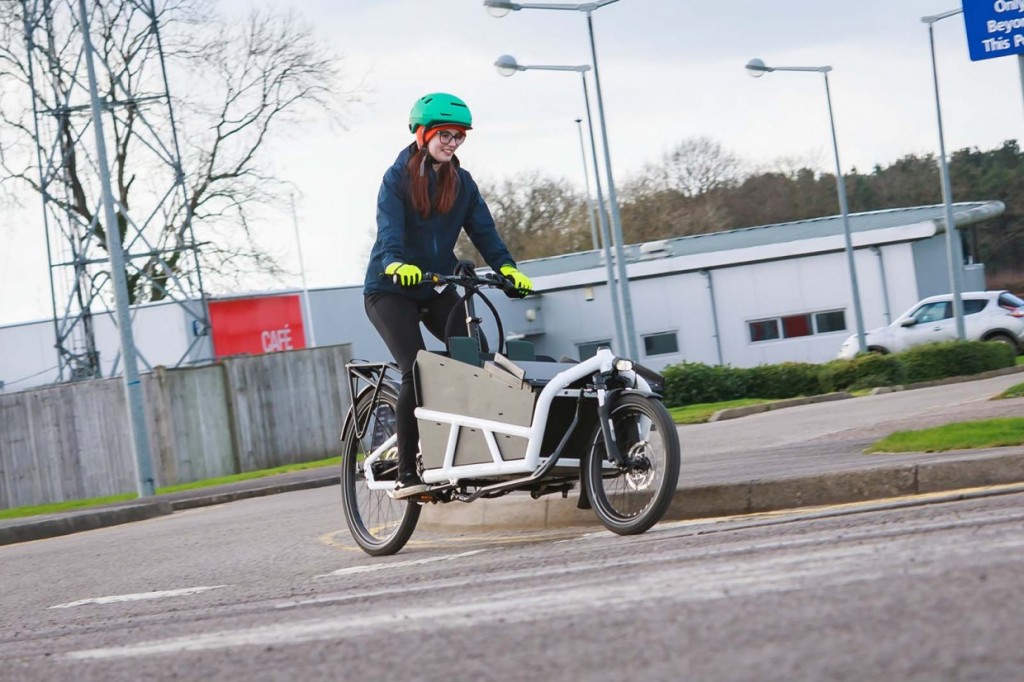 Raleigh Stride 2 Electric Cargo Bike - £4395 
Perhaps a more financially accessible electric cargo bike, the Raleigh Stride 2 is a great option for those who want something to carry the kids (or dogs) in instead of the car. The Stride 2 comes in either a trike or a two-wheeled version, we've gone for the two-wheeled version.
The frame is manufactured from high tensile steel and the full bike weighs 60kg, which is pretty hefty. For that weight,  you get the impressive Bosch Performance CX Line motor, a 500Wh PowerPack Bosch battery that promises between 30-40 miles of range, and an Enviolo gear hub. 
We loved the Enviolo gears on other bikes, they offer a super wide range of gears and the beauty of being able to change gears when at a junction never gets old. Particularly if you're on a cargo bike carrying a lot of weight, being able to shift down to an easier gear to set off again is important. 
The front carrier bucket can take up to 80kg, and can physically fit two small children in seats. It can also accommodate loads on the rear rack, so perfect for some pannier bags or school bags while the kids sit in the front. If 80kg isn't enough, there is the Stride 3 which can carry 100kg, but we loved the Stride 2 for the price point and components. 
Tern GSD S10 - £4700
When people think of electric cargo bikes, they're probably envisioning the Tern GSD whether they realise it or not. This rear loading cargo bike comes with plenty of kit to warrant its popularity. 
The S10 is the same length as a non-cargo bike but can carry up to 200kg of load. It's a rear loader primarily so has room for kids to sit on the back bench, with thoughtful features like the footrests so passenger's legs aren't swinging into the drivetrain as you pedal. 
There are also accessories available for the front so you can load luggage on there, too. As many know, one of the biggest barriers to purchasing a cargo bike is the space it takes up. Tern has designed the S10 to be parked vertically, and if that wasn't enough, you can also fold the handlebars down to save space. 
Tern has used the Bosch Cargo Line mid-drive motor to power this bike, and the bike can be used with Bosch's dual battery system for extra range. Groupset wise, they've gone for a Shimano Deore 10-speed drivetrain and hydraulic disc brakes. 
The Tern GSD S10 is a great e-cargo bike with plenty of frills and mid to high-level components to give you brilliant value for money.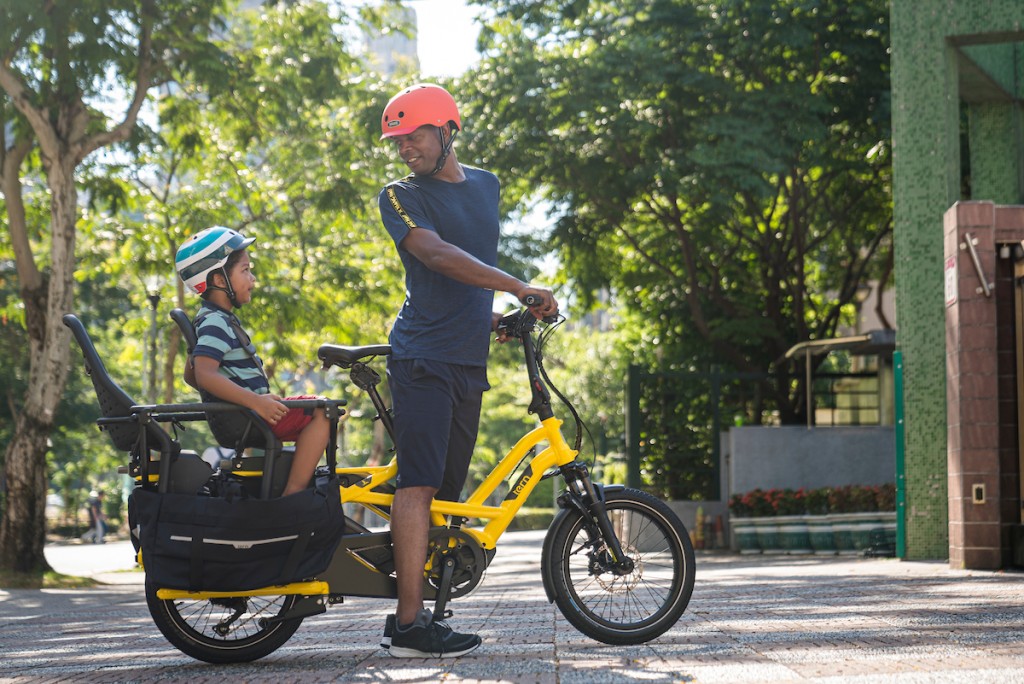 E-MTBs
Specialized Turbo Levo Comp - £6300
A progressive trail bike by design, with the addition of a motor and battery, the Specialized Turbo Levo Comp doesn't compromise on performance. It's got slack head angles, short chainstays, and all the geometry of a non-electric trail ripper. Using their proprietary motor and battery system, this bike comes with plenty to be happy about. 
The Turbo Levo family has a few different bikes, but we liked the middle of the road Comp for its alloy frame and component spec. Wary of the price of e-MTBs, we think it's a great middle-ground, and if you want to spend more, there are other options in the range. 
The Specialized 2.1 motor is a new design from the brand that's lighter, smaller, and more efficient than previous iterations. It claims silent usage, but that's hard to imagine, particularly on long technical climbs that require a lot of torque. 
Battery wise, they've used an M2-series 700Wh Specialized battery which by any means is a large capacity battery. They're quite guarded about the mileage you can expect from these batteries, and they are rather expensive (£1200) to replace, which is worth bearing in mind. 
The electrical components all link up through the Turbo Connect Unit on the top tube. Unfortunately, there's no screen, unless you pair the bike through the Mission Control App, but riding with your phone attached to your MTB is not a popular choice. 
There is a lot going for the Turbo Levo Comp, the price can be daunting but most electric mountain bikes are pricey due to the continuous progression of the technology. 
Moustache Samedi 29 Trail 10 - £7099
This 29er full suspension bike probably isn't a household name...yet, but we think it could be within a few years. Moustache is a French brand becoming increasingly popular within the e-bike circle, as they began the company to make electric bikes. Unlike other brands, they started their journey with e-bikes, and we think that deserves some recognition. 
The Samedi 29 Trail 10 is a highly capable trail bike, with 150mm travel front and rear. This edges closer to Enduro bike territory but as the lines become more and more blurred, it's happy with whatever you throw at it. The Fox Float 34 forks with Kashima coating are complemented by the Magic Grip Control Shock with plenty of adjustment. 
Bosch motors are on all Moustache bikes, and for this model, they've used the Performance Line CX with a 625Wh PowerTube for plenty of range, as judge Charley Boorman can attest. 
"It means I can ride twice as far, twice as many trails as my friends but in the same amount of time."
Alongside the powerful motor, Moustache has kitted the Samedi 10 out with a Shimano XT 12-speed groupset. This is the top-specced bike in the Samedi range, which is why the price is so high. We thought it was also important to note that Moustache will be raising their prices by 5% from April, bringing this model to just shy of £7.5k.
3. Whyte E-160 S - £5999
When you think e-MTB, the Whyte E-160 S is usually at the forefront of suggestions. It's a proven bike with plenty of great kit and fantastic design which leaves it at the top of the ratings every year for reviewers. 
It proclaims to be everything you want from an electric mountain bike. It can pop, it can climb, it's as agile as a hardtail, with high levels of grip but with the added benefit of a motor and battery to power, you up the climbs faster, giving you time to complete more runs. 
Bosch is a big player in e-MTBs and it's no difference here, as Whyte has used the Performance Line CX motor with 85Nm max torque paired with the Bosch 625Wh internal PowerTube. 
Groupset wise they've gone for SRAM GX Eagle 12-speed, which is a fantastic bit of kit. It may not be the top-spec but it's a workhorse that will be able to take the extra load and torque put through from an e-bike rider. 
Polished off with RockShox ZEB 160mm forks and a RockShox Deluxe Select + RT shock, this bike is more than capable of shredding hard trails and technical climbs, and at just shy of £6k you get a lot for your money in this market.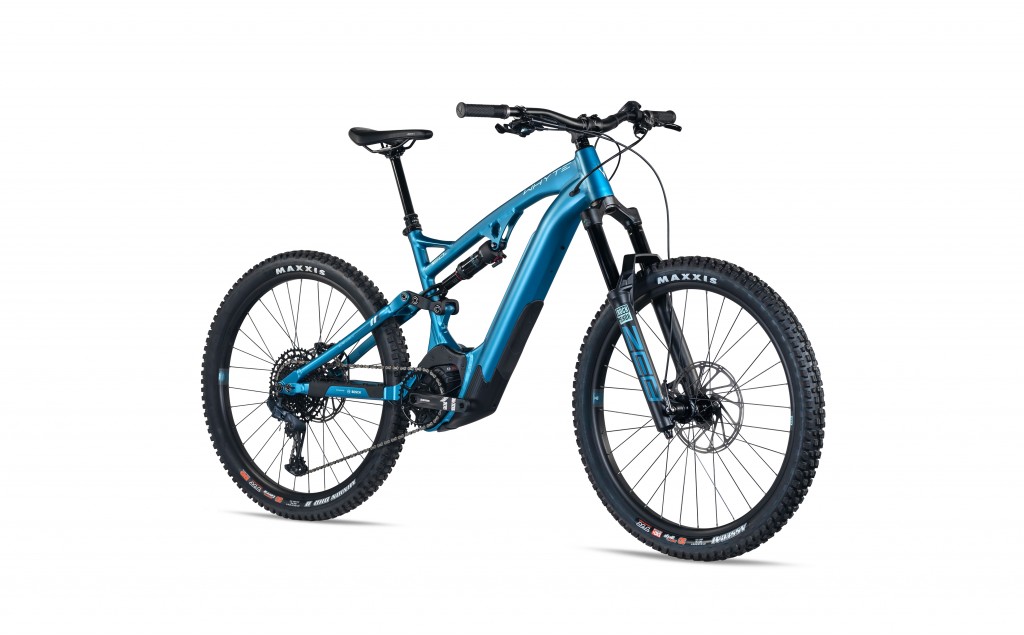 4. Trek Rail 7 - £5500 
The cheapest e-MTB on this list, but not because it's built with the cheapest components. Trek are well known for their mountain bike success, with the current female XC world and Olympic champions atop their frames, and their e-MTBs are known for putting a smile on riders' faces. 
The Trek Rail is their electric trail mountain bike. It's got several models in the range, and the 7 is somewhere in the middle. At £5.5k you might wonder just how much you can spend on these bikes, and the answer is £12.6k. The Rail 7 doesn't look so bad now, does it?
For your £5.5k, you'll get all the frame tech of the more expensive models like Knock Block, which stops your handlebars from spinning around and damaging your frame in a crash. You'll also get a 12-speed Shimano SLX drivetrain, which sits somewhere in the middle but below Deore which is a little disappointing at this price. Topping it off is the RockShox Yari 160mm fork and RockShox Deluxe Select+ rear shock.
Motor wise, Trek has gone for the ever-popular Bosch Performance Line CX and Bosch PowerTube 625Wh. At £5.5k it's a decent bike and will certainly enhance your trail riding, and at the end of the day that's what these bikes are for – enhancing your ride through enjoyment, and allowing people to ride further than they would otherwise. 
READ MORE
Subscribe to the Move Electric newsletter
e-CARS
New Volkswagen ID Buzz: everything you need to know
How efficient are electric cars?
e-BIKES
Ducati expands e-bike range with first racing machine
e-MOTORBIKES
New Yamaha Neo is Europe-bound '50cc equivalent' electric moped
Electric Motion Epure Race e-motorbike review
e-SCOOTERS
Eskuta KS-450 e-scooter review
Taito unveils innovative new three-wheeled electric scooter
e-WORLD
Electric surfboard firm Awake aims to make waves with first e-foil
Volta Zero electric truck can 'dramatically improve' inner-city road safety